Great Continental Divide Adventure Ride
Conclusion

The trip was incredible. It was definitely the best riding experience I have ever had. The camaraderie and teamwork of the other riders was excellent and really added a positive element to the trip. This teamwork helped make this journey possible with more confidence to explore deeper off-road with less worry of how to extricate myself in case of some mishap.
It is also interesting to note that the fatigue I would experience with each days riding (on the CDR) is different than that while just doing a long ride on asphalt. In a way, although more sore with the possibility of more muscle aches and some bruising or contusions from off-roading mishaps, I find it less painful than just a long day in a fixed position on the saddle.
The travel via these back-roads from Mexico to Canada was also an enlightening experience for better understanding this mid-section of America. Traveling by an adventure motorcycle via these backroads and trails versus a car enables a more intimate view, while also covering territory in a quicker and more efficient manner.
Each state seemed to have a different personality that you could sense fairly soon after crossing each border. To characterize each briefly from a one to two sentence standpoint:
New Mexico is subdued, low-paced, rural, and poor, yet has a peaceful and subtle beauty that I find quite attractive. The mountainous region of Colorado has a more in-your-face type of magnificence with its tall mountain peaks, large groves of aspen, and lots of green (money and the environment). But with it also comes a larger population and hordes of tourists attracted to these same qualities. Wyoming is a rougher working class state with a harsher environment that you can see in people's faces, that look as if the last economic cycle has passed them by as the previous oil boom cycle went bust. Idaho tends to be more agriculture based with plenty of open farm lands that appears to be relatively more prosperous, with pleasing scenery of rolling hills, and with a broad dispersal of mountain ranges. Montana looks more diversified with a balance of agriculture, cattle grazing, mining, and more modern feel in some of the bigger cities. Its lands also tend to cover the gamut from mountains and ag lands, to sage covered plains, being more similar to Wyoming, but perhaps with a more balanced and positive nature.
With this trip now a memory, I am already thinking of the next one. Like one other rider Bill had to say a few weeks after the ride: "I seem to be afflicted with a case of: Can't stop thinking about motorcycles and travel. I am not sure what to do. My wife wants me cured right way. I am not so sure. I think I can live with this disease/affliction....at least for a while. "
Many others including myself seem to suffer from the same condition. Rather than fight it, I think the best cure is just a regular regiment of more rides. Doses a couple of times of year should help keep it in check. Hmmm... Baja and Alaska come to mind...
- Stephen Fischer

---
Video of the CDR ride
You will find a relatively long 25 minute video of the ride. It is organized chronologically for each day. You can view by clicking on the following icon. I have tried to make use of many shorter snippets, combined with photos, and some good music in an effort to keep a higher pace and entertaining.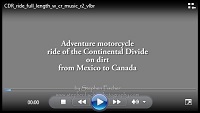 For those with a slow or congested internet connection, you may also try to download it to your computer first, before viewing it, as this will help minimize any stalls. To do this, click on the download icon at the lower right corner once the video viewing window opens.

---
GPS tracks
In the following list you will find the GPS track files in .gpx format as captured from my GPS for this ride described. To download each track, right-click each link, and select "Save As" to save the file to your local computer.

Note that these are not the tracks provided from GPS Kevin that I paid for as part of this ride, but the ones captured from my bike's GPS, including the detours, a few of the deadends, and wrong turns along the way. I tried to edit these tracks for the more blatant wrong turns to clean up some of this, but may have missed some. These tracks are provided as-is, and the author can not vouch for their accuracy or consequences of their use. Thus you should not soley rely on them, but instead use as an additional reference and apply reasonable common sense for your overall trip planning. Other than getting them from GPS Kevin, another good source of GPS tracks for the CDR can be found as posted by Cannonshot on the adventure bike online forum ADVRider. In any case, you will find that roads or trails can change, or that weather can impact the passabiity of a particular route, and that it is typical that some improvisation during your travels will be required.


Day 1

–

Silver City, New Mexico to the Antelope Wells Mexico border crossing and back
Day 2 – Silver City, New Mexico to Grants, New Mexico
Day 3

– Grants, New Mexico to Abiquiu, New Mexico
Day 4 – Abiquiu, New Mexico to Del Norte, Colorado
Day 5 – Del Norte, Colorado to Frisco, Colorado
Day 6

–

Frisco, Colorado to Steamboat Springs, Colorado
Day 7

–

Steamboat Springs, Colorado to Rawlins, Wyoming
Day 8

–

Rawlins, Wyoming to Pinedale, Wyoming
Day 9

–

Pinedale, Wyoming to Island Park, Idaho
Day 10 – Island Park, Idaho to Beartooth Pass and back
Day 11

–

Island Park, Idaho to Butte, Montana
Day 12

–

Butte, Montana to Seeley Lake, Montana
Day 13

–

Seeley Lake, Montana to Roosville, Montana (Canadian border)
---
Appendix: Assessment of the bike and tires
As for my bike (2015 BMW F800GS Adv) and its condition after this ride, I made it back home in one piece, and felt the bike held up quite well overall given the wide variety of riding conditions. My Hepco-Becker crash bars, stronger bar guards, and bigger skid plate ended up being a wise investment, as I took multiple impacts on both sides and underneath, with none of the bikes body or other components scratched or damaged as a result. The mirrors got pushed in during some of the crashes, but each time I was able to straighten them back out without the need for tools and with no visible signs of damage. The skid plate has one particularly large dent that I was able to hammer back out to a sufficient degree. Damage was incurred to the rear brake lever that folded back like a pretzel during one crash in the mud. It required straightening with two crescent wrenches in the field, borrowing one from another rider. At home I have done a more permanent fix by removing it and straightening in a vise. Ideally I will likely replace this brake lever with one that folds back and has more adjustability that Touratech sells. My shift lever may have suffered the same fate, but I had previously replaced with it with a fold-in one earlier, and thus it survived this ride intact. At just over 18K miles by the time I got home, my drive chain and rear sprocket was starting to look quite iffy with a shark tooth pattern, requiring daily adjustments during the last few days of the ride to keep it tight. It was also starting to sound "crunchy" near the end when putting the bike under load while accelerating on some steeper up-hills. In hindsight I should have changed this before the start.
The most significant damage was to the front wheel in the form of multiple dents. One particular dent is quite large, with many wondering how the wheel survived it or why it did not flat. It is interesting to note that if this was a tubeless wheel, I probably would have been screwed with this type of dent breaking the bead. The challenge I faced here is having to air down in some of the looser terrain like sand to achieve better traction (e.g. 24 psi on the front and 28 psi on the rear), but having enough air to absorb some of the bigger rocks or cattle guards. I brought along an air compressor that I would use to make adjustments along the ride, but it is not always so easy to predict what may be around the next corner, or holding up other riders of your team to tweak things.
Reading the online forums on the F800GS, apparently the stock rim has a reputation of not being particularly durable, with many others complaining about dented rims. A stronger front wheel is most likely in my future, but I also just ordered the Hyperpro progressive spring kit through Touratech and I will be installing it first. I expect that this will help minimize the stock front suspension from bottoming out on some of those bigger impacts, while also reduce the amount of diving during more aggressive braking on the twisties.
As for the tires, the Heidenau K60 Scouts held up the entire ride quite well. I also put Ride-On flat preventer in both my tubes, and not getting any flats for what that is worth. Despite having doubts about the K60's initially for being noisy and feeling a bit funny a lower speeds for the first 1K miles while breaking them in, I got more comfortable with them over time. In terms of mud and sand, they were probably in the middle performance-wise in comparison to other folk's tire experiences. I believe the Metzler Karoo 3 tires I had on previously would have done better, feeling more confident on them, but they simply did not have the longevity necessary for the length of this ride. With about 6500 miles on the rear, the K60 still has about 1~2K miles to go before I will have to change it.
Talking to some other riders in our team about their tire experiences (or based on my own observations), some like the Shinko's did not seem to last that long, barely making it to the end even after installing a fresh rear at the start. I also was not impressed with their degree of lateral traction in terrain like the mud. The Continental TKC80 seemed to do well. It is the classic off-road oriented adventure tire that many compare against, but by the end they too were mostly spent. The Mitas E-07 for the rear and E-10 for the front seems to be a highly rated recommendation in terms of a good balance between traction and life, and thus are on my short list for my next replacement set. A few riders with the Dunlop D908F for the front reported positive feedback for excellent traction in the looser dirt once you get past the initial squirrelly feel during the break-in, so I will also be looking into this tire as well.
In general, after this ride my confidence with the BMW F800GS Adv is even higher than it was going in. I would sometimes find myself thinking the grass is greener with some of the other bikes like the KTM 990 or the newer Honda Africa Twin 1000, but now I don't think it would make a big difference. Every bike has its pros and cons. In the end it was what you make of it that counts.
Images
of the bike and parts after the ride (click to select the larger view at bottom)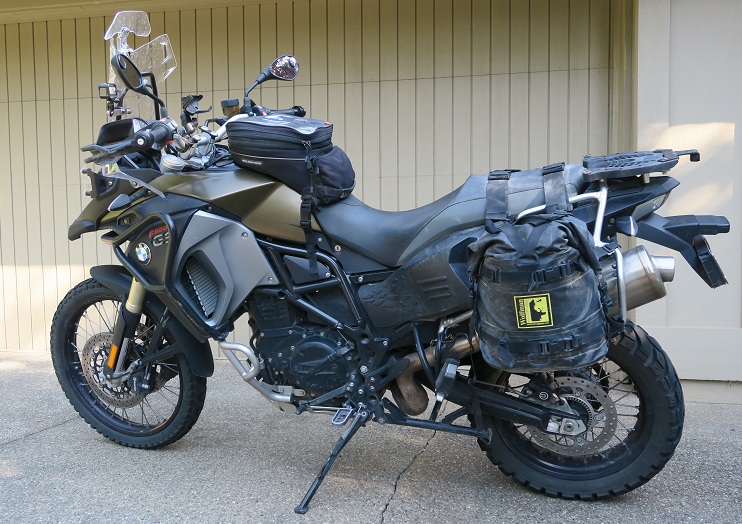 Intro Day 1 Day 2 Day 3 Day 4 Day 5 Day 6 Day 7 Day 8 Day 9 Day 10 Day 11 Day 12 Day 13 Conclusion
It covers over 250 locations with background details on how to get to each place, the best time and season, and recommendations on technique, and generally how to capture the best images.
365 pages, with over 450 on-location quality color reference images and 45 separate maps.