Great Continental Divide Adventure Ride
Day 3 - Grants to Abiquiu, New Mexico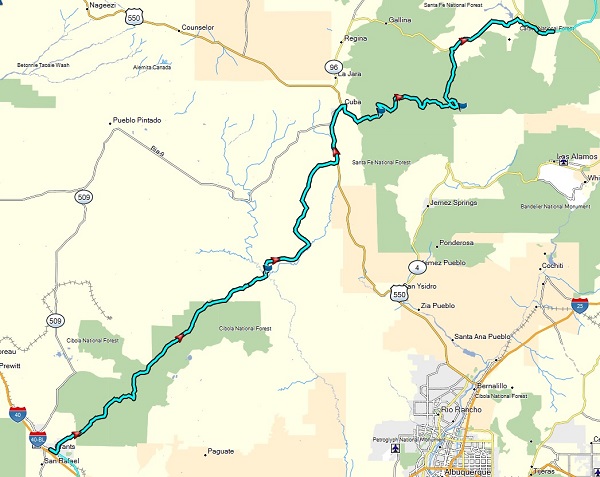 The days ride was 195 miles long, with a stop about two-thirds of the way in at Cuba for lunch and gas. The terrain up to Cuba was mostly arid with lots of semi-rocky terrain with some loose dirt, patches of sand, and mud. You take a bit of beating riding through some of these rocky sections that seem to go on for 20 miles at a time, but nothing that was overly technical.
A weather pattern started to emerge that would end up causing more problems that day for those that got a later start. By noon or early afternoon it is typical for some rain to fall this time of year in the higher more mountainous regions. The same area that our team passed through unscathed under dry and sandier conditions, ended up trapping another couple of groups due to mud that worsened by the minute as the ground got wetter, delaying them by hours. The photo insert below is from Ed Bennett of his KTM 690 that went into a prairie dog hole while trying to bypass the mud to no avail.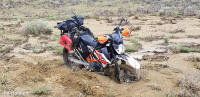 From what I heard, some riders had to remove their front fenders and help push each other's bikes to get through some sections that turned impassable from the mud. It was also reported that no bike was immune from this particular incident, with everyone going down and getting stuck. The rider on the WR250R ended up smoking his clutch trying to get his wheel turning. Improvising with pieces of a rag inserted between two of the friction places, he was able to restore the clutch's functionality, lasting a couple of more days until we could reach a bigger town in Colorado with a decent motorcycle shop.
Meanwhile, the terrain north of Cuba turned to a scenic forested and mountainous path as our group climbed up toward Polvadera Peak nearer to Los Alamos to the east. The aspen trees here are gorgeous, and in stark contrast to the arid landscape found just further to the south or west. However, soon our path was thwarted by some rocky slopes that became too difficult for the bigger adventure bikes. After encountering a couple of other riders (Chris and Joey on an Africa Twin and R1200GS Rallye) in a group ahead of us heading back downhill (and determining for ourselves of the difficulty), we decided to find a bypass route to the north. After a few dead-ends, we were finally successful in making it through, ending up on the asphalt again in the town of Coyote about 20 miles west of Abiquiu. From the southeast side of a dam on the way to Abiquiu, we then picked up a dirt trail again on the south bank of the Abiquiu River, following this the rest of the way into town. These unplanned diversions and bypasses ended up being a reminder of the importance to have some margin with your gas, as well as having a GPS with maps for some of the smaller dirt roads on public lands.
Following the GPS to our "motel", the Abiquiu Inn, I thought there must be some sort of mistake, as this place looked much too nice. But after double-checking at the front desk, making sure we were not staying at some bunkhouse or double-wides in the back, they confirmed it was real. It is one of the fanciest places I have been, being affiliated with the former stompings grounds of the artist: Georgia O'Keeffe. Apparently GPSKevin scored some type of volume mid-week deal. The next morning it was tempting to just stay an extra day and catch-up with the other riders via the asphalt later.
Images
(click to select the larger view at bottom)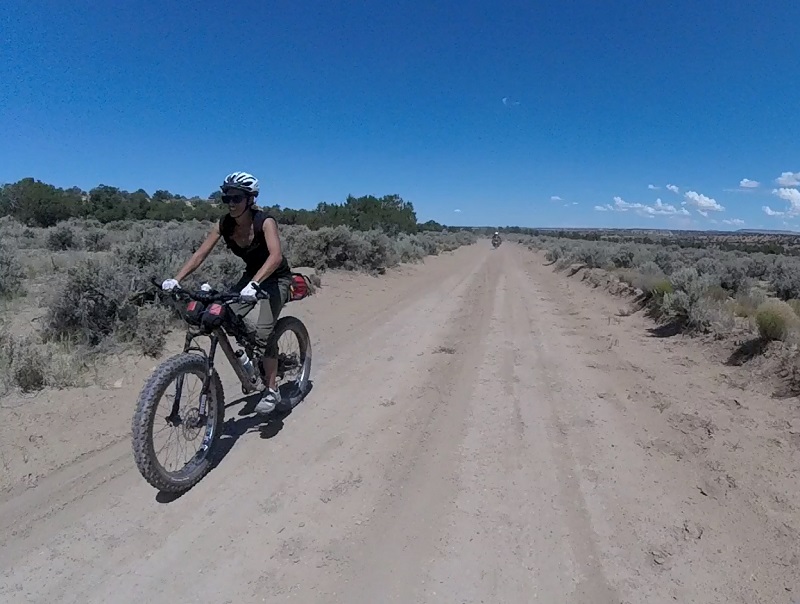 Intro Day 1 Day 2 Day 3 Day 4 Day 5 Day 6 Day 7 Day 8 Day 9 Day 10 Day 11 Day 12 Day 13 Conclusion