Great Continental Divide Adventure Ride
Day 8 - Rawlins to Pinedale, Wyoming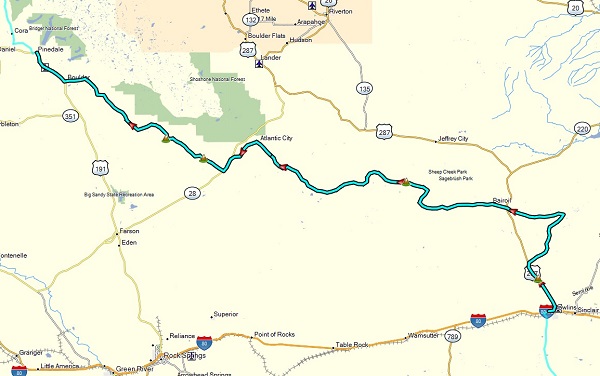 At 229 miles, most of the terrain was wide open sagebrush covered lands with no gas along the way. The first portion of the ride on the east side of Highway 287 is quite sandy, with the trickier sand lasting for about 15 miles at the midpoint of this 37 mile segment. Some of us (including myself) crashed in some of the more challenging places where it was deeper in the dips and small hills. One could easily skip this sand if they wanted by simply staying on the pavement of 287, as the dirt route crosses back to it further north in about 30 miles (for the purpose of reaching out to cross the official Divide).
The rest of the roads tended to be firmer and fast, with other sights consisting of an occasional oil or mining site, oversized earth moving equipment, and an historic mining town, while trees seemed to be non-existent. Every once in a while we would also encounter an occasional herd of wild horses or antelope that seem prevalent on these lands.
Looking for a place to eat for lunch and not being satisfied with just more energy bars or nuts, we chanced upon a saloon in the small isolated town of Atlantic City. The place ended up being quite unique, capturing the more local flair of Wyoming. It was a good place to stop, as it also ended up being the only location for lunch that day until reaching Pinedale in the afternoon.
Afterwards, making a brief stop at the South Pass City historic mining town (Wyoming equivalent of Bodie, California) for a few photos following lunch, we then continued on through a terrain that was consistently barren and dry. This continued for quite some time, while also losing the track on a few occasions as the GPS route seemed to be a bit dated in a few areas. Typically we would reconcile the situation by trusting the road and the general direction you were heading, ultimately reconverging with the GPS track after a few miles.
The scenery started to get a bit greener when reaching the area of Boulder, complimented by the presence of a few creeks and rivers. At this point we also started to notice other campers in the area for some weekend fishing.
Images
(click to select the larger view at bottom)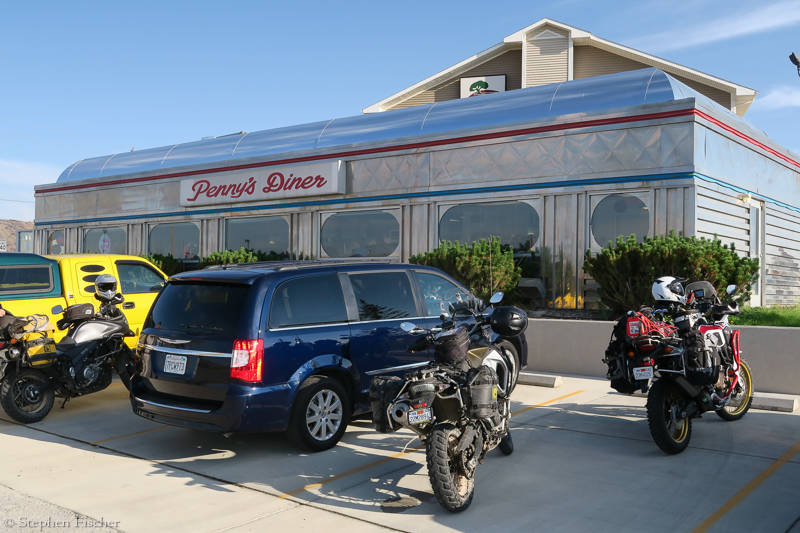 Intro Day 1 Day 2 Day 3 Day 4 Day 5 Day 6 Day 7 Day 8 Day 9 Day 10 Day 11 Day 12 Day 13 Conclusion