Great Continental Divide Adventure Ride
Day 7 - Steamboat Springs, Colorado to Rawlins, Wyoming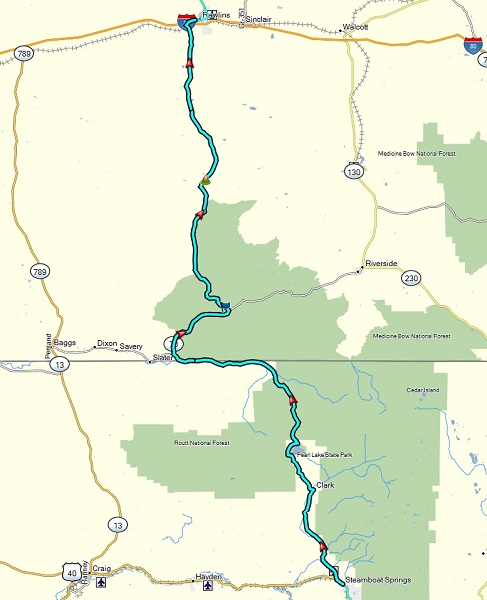 Another short day at 131 miles. The landscape transitions from scenic aspen tree covered mountains in the morning to open sage plains in the afternoon as we entered Wyoming. On the Colorado side we encountered some sheep herds and their dogs (quite friendly), along with the unique and renowned Aspen tree alley (GPS coordinates: 41.1261, -107.1693).
As the terrain transitioned to the open sage lands of Wyoming, and despite the openness and fast roads, I realized a new riding hazard: Antelope that could bolt out of nowhere and surprise you when least expected. It seems like the most dangerous riding position in Wyoming is riding point, flushing out the herds of grazing antelope ahead of you.
Coming in to Rawlins could not be more different than the previous days in Frisco and Steamboat Springs. The contrast between these two states is quite striking, truly a tale of two states. With richer more affluent land owners and summer vacationers in Colorado, to more under-employed working class hard scrabble cowboys and oil workers in Wyoming. That evening after dinner I decided to explore the older part of Rawlins with my motorcycle and camera. Apparently this attracted some unwanted attention by the local police that seemed to be shadowing me the entire time. Perhaps my California plate didn't help or that I was covering some of the more run-down sights in town (that tend to be more unique), so I tried my best not to trigger any cause for a traffic infraction and possible shakedown.
We also had another rider (Scott) on an Africa Twin DCT crash that resulted in a broken leg. This occurred while riding some more technical single track earlier on the Colorado side of the border, falling into a deeper rut and pinned by his bike. After another from his team (Todd on a KTM 690) rode the bike out of the tricky stuff with him on the back, he was able to get to the local hospital emergency room in Rawlins on his own. Interestingly, Scott's Africa Twin DCT with its automatic transmission made it easier to ride the bike out the rest of the way with his broken left leg. Later I had the pleasure to ride his bike back from the hospital to the motel, finding the automatic transmission a bit disconcerting at first, but getting used to it later, and realizing it could probably have helped in a few places where I missed a shift in some more technical situations.
With Scott's leg now in a cast, we were down one more rider (3 down, 16 remaining). Making lemonade out of lemons, he was now the designated driver for the truck, with his good leg and some crutches sufficient to drive. Gil, the driver up to this point anticipated this situation, keeping his KTM 500EXC tucked away on the truck with his riding gear, and ready for action. By this point, our group had adopted a new motto: "Safety Third!" based on a sticker that Klams had on his Super Tenere.
Images
(click to select the larger view at bottom)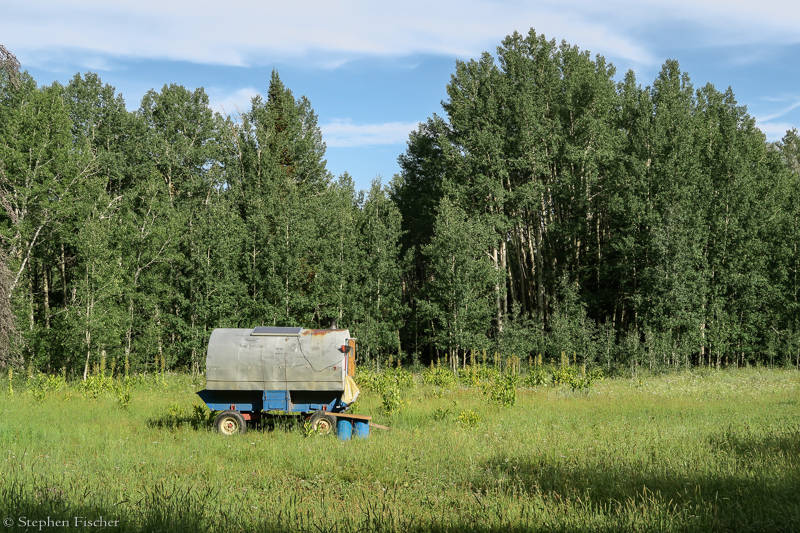 Intro Day 1 Day 2 Day 3 Day 4 Day 5 Day 6 Day 7 Day 8 Day 9 Day 10 Day 11 Day 12 Day 13 Conclusion