Great Continental Divide Adventure Ride
Day 5 - Del Norte to Frisco, Colorado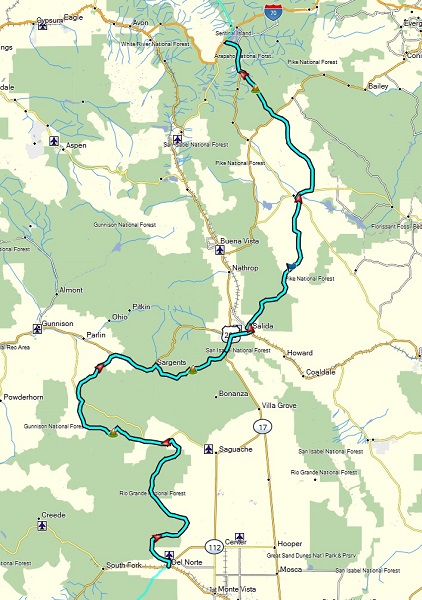 A good day of riding, covering 214 miles over some scenic high grassland plains and Rocky mountain ranges via Marshall and Boreas Passes. Gas was not a problem today, as there were a number of towns along the route as well.
Marshall Pass is also quite popular with other tourists on ATVs and mountain bikes, so it required a bit more attention for the possibility of oncoming traffic. There is also a long section of whoops on the ascent, intended to provide drainage run-offs for the purpose of minimizing erosion of the road. At first this was fun to get a little air as you would go over some of these. But after a while I starting to worry about my suspension as these seem to go on for a long time, while some were unexpectedly bigger. So I tried to ride to the inside edge of these in order to minimize the impact to the bike's suspension. Later some other riders ended up with blown fork seals as they noticed fork oil oozing out that afternoon. This may have been aggravated by the dirt and mud on the bikes forks from the previous days. I happened to also have after-market fork seal protectors on my bike to help keep them clean, so perhaps this helped.
Once reaching Salida for lunch, one of the riders (Steve on an Africa Twin with Kenda tires) in our group noticed a flat on his rear tire while we were filling up. It was caused from one of those old-style square nails, most likely picked up when exploring a section off the beaten path while at the top of Marshall Pass.
The terrain in the afternoon shifted to one of high and fast grassy plains on CR-53. This was quite scenic in a different type of way, with many riders opening it up to the limits, but being careful in the turns with the signature Colorado gravel.
Meanwhile, with the specter of thunderstorms threatening our group on all sides, we seemed to be chased the entire way into Breckenridge, spurring a quick crossing of Boreas Pass under the threat of heavier rain. Most of the day's ride was quite scenic, but as we entered Breckenridge and the following town of Frisco where our motel was, it was quite a culture shock in terms of the amount of tourists and the degree of affluence in comparison to the areas we rode through in New Mexico earlier. The area reminded me a bit like some of the ritzy but crowded tourist towns in California like Truckee or Sausalito, and not in a good way.
Images
(click to select the larger view at bottom)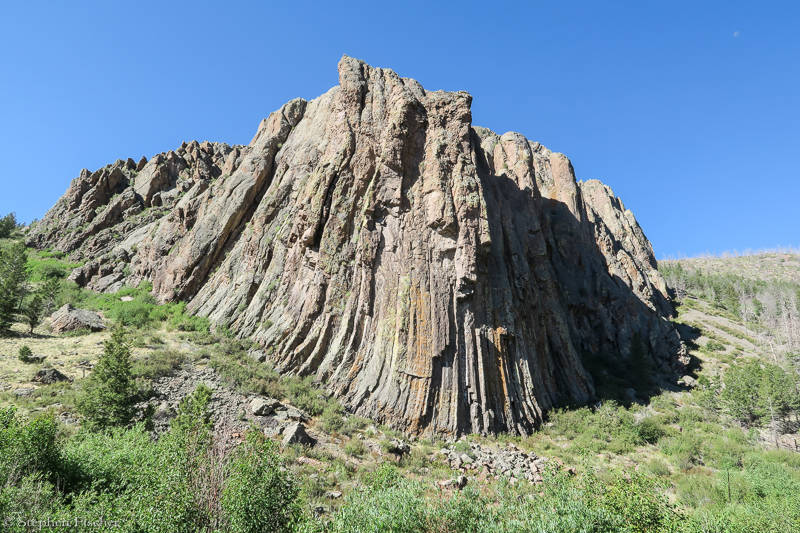 Intro Day 1 Day 2 Day 3 Day 4 Day 5 Day 6 Day 7 Day 8 Day 9 Day 10 Day 11 Day 12 Day 13 Conclusion