Great Continental Divide Adventure Ride
Day 11 - Island Park, Idaho to Butte, Montana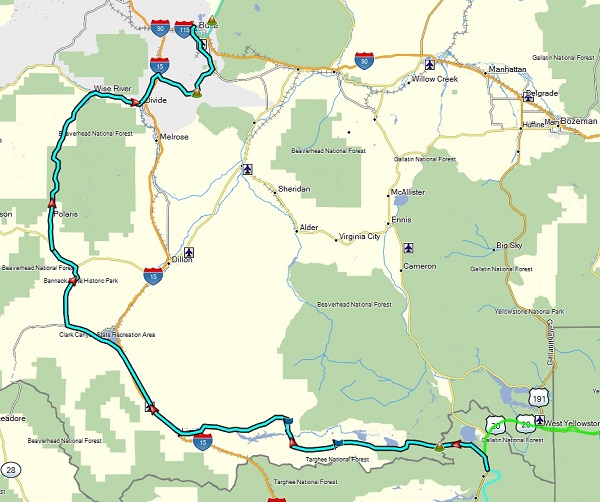 Although a long day at 274 miles, the pace was fairly brisk with nothing too technical. The first third of this route is across open grazing lands sprinkled with an occasional older log cabin or shed, after crossing the Divide at Red Rocks Pass and cutting through the edge of the Red Rock Lakes National Wildlife Refuge. One of my favorite areas for this can be found at the coordinates: 44.605, -111.941.
I would have to say the most noteworthy events for the day was running head-on into a cattle drive coming down our dirt road in the opposite direction. With about 1500 head of cattle being driven by about ten friendly cowboys and cowgirls, complete with their cattle dogs, it was quite a sight and a good photo-op. It also seemed like a lot of fun. We basically had to just stop on the side of the road, turn off the bikes, and wait for about 15 minutes as the cattle were driven past us.
After a smaller second breakfast at a diner in Lima, sharing the counter with a long haul trucker from Canada, we then passed through the Scenic Beaverhead National Forest on fast and windy pavement along the Wise River. I was struck by how scenic, yet uncrowded this area of Montana seemed to be.
After Wise River we had more dirt through another mountain range to the east crossing the Divide again (nearer to Table Mountain), ultimately reaching the surprising large and historic town of Butte. Our hotel was the older Finlen Motor Inn in the historic district. The surrounding streets and buildings looked like you would expect on an older movie set of a cosmopolitan city of the 1950's. This is back when Butte was in its heyday with a lot of money as the center for a large copper, silver, and gold mining industry. Just north of town up a hill overlooking the city, you will find the infamous Berkley Pit, a centerpiece of an extremely large open pit mine (now the EPA's largest Superfund site in the nation) that dominates the surrounding landscape. Many of the jobs of the mine are now dedicated to cleaning up the site, as they struggle to get control of the now highly toxic and acidic water from this pit that threatens to intrude into the surrounding water table.
In a way, the day's experiences in Montana felt like going back to a previous era before my generation, adding to the positive nature of this adventure bike ride.
Images
(click to select the larger view at bottom)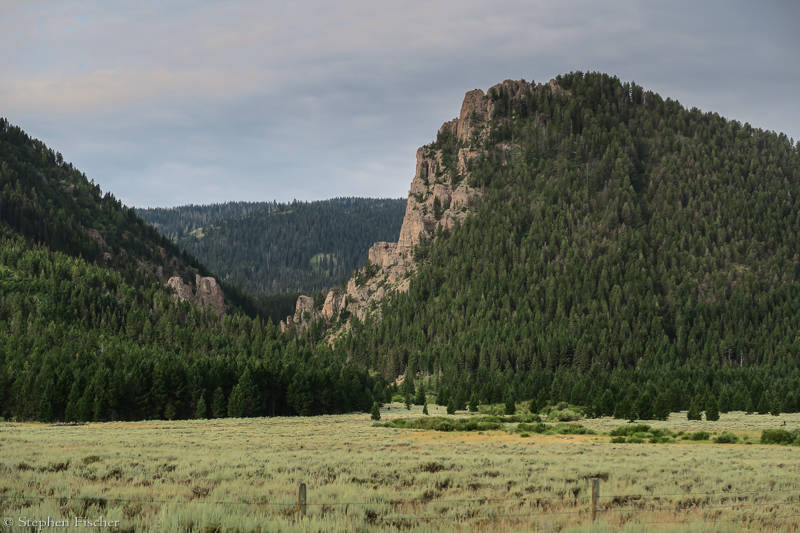 Intro Day 1 Day 2 Day 3 Day 4 Day 5 Day 6 Day 7 Day 8 Day 9 Day 10 Day 11 Day 12 Day 13 Conclusion