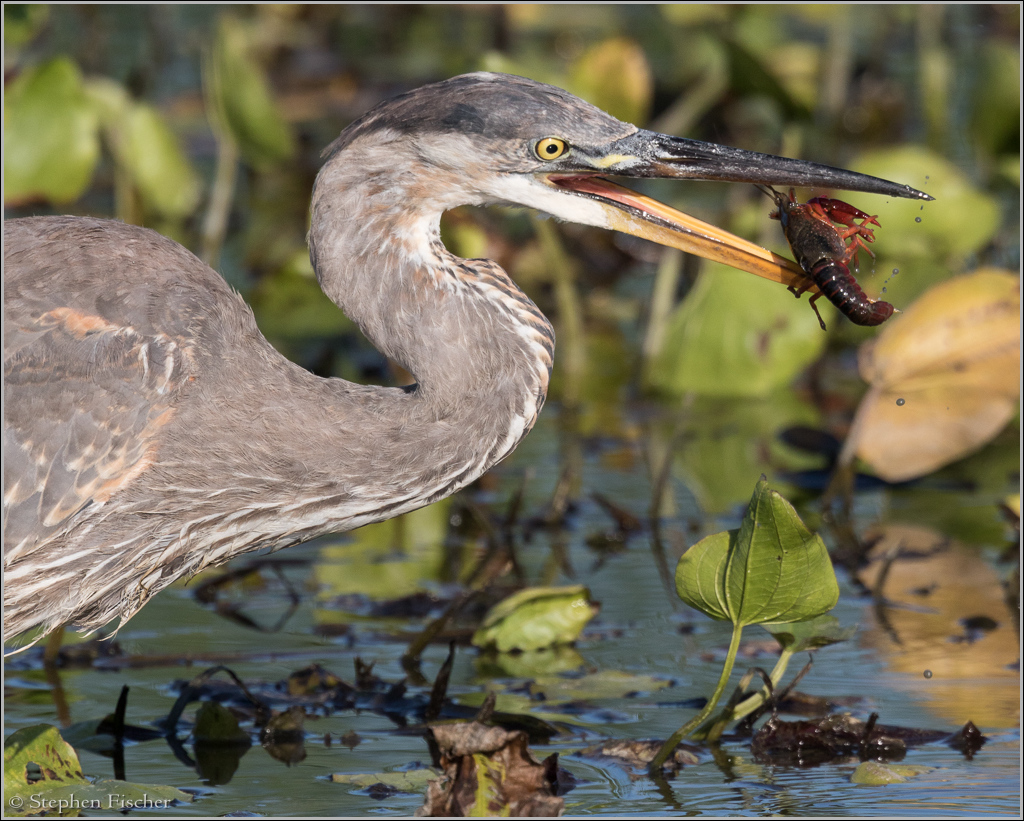 Crawdad catch
A juvenile great blue heron catching a crawdad out at the Yolo basin wildlife refuge. I watched as this majestic wading bird slowly stalked the crawdad, and suddenly jabbed its beak into the water to catch it in quick flash of motion. In order to get this down its throat, the heron had to toss the crustacean back into the air and catch it again for a more friendly longitudinal orientation. One nice thing about the juvenile birds is that they tend to be less shy about the presence of people, thus making such photography easier without them getting spooked (that is until hunting season begins in the fall).
Some of the ponds out at the Yolo refuge are getting flooded again, which has been a much needed relief for some of the birding wildlife that has started to flock here a bit earlier than normal. I was out here with my supertelephoto 500mm f/4 lens with the 1.4x teleconverter attached to a Canon EOS 7D mark II looking for interesting bird species or other captivating compositions. There have been recent sightings of a least bittern as reported by some other birders I ran into, but on my last two visits I have not had luck yet with this more elusive bird. But while there I did manage to spot an american bittern hiding deep in the reeds, tipping off others to its presence (see the 1st image). On an earlier evening I captured images of western sandpipers and wilson's phalaropes, both in relatively colorful breeding plumage.
During some previous explorations at other locations in the Sacramento area this last month I also managed to photograph two other bird species on my photo bucket list: tri-colored blackbirds and purple martins. I got a tip on the purple martins from a biologist friend who studies them as a personal hobby. They were found occupying some weep holes under a bridge in Old Sacramento. They were tricky to photograph due to their very fast movements, but I got lucky on a few occasions when one would pause at the nest entrance while either coming or going. See below for one photographed hanging upside down just prior to its departure. Perhaps this was a fledgling, as it seemed to hesitate while trying to leave, hanging for a bit with its wings spread, before dropping into the air and starting to fly.
The tri-colored blackbird colony was found out in Folsom in a patch of blackberry vines in one of the few remaining drainage areas of this overdeveloped suburban area, just east of the Costco. They use the blackberry bushes for protection from predators, and I noted them feeding on grasshoppers in the open grasslands south of 50, immediately on the other side of the freeway from their colony. They would make regular trips, and return with their mouths stuffed with grasshoppers, and then feed them to the fledglings. Given the endangered status of these birds, I worry that the imminent development of these lands will wipe out this particular colony (see my previous blog on this here). Unlike the more ubiquituous red-winged blackbirds, the tri-colored are more tied to a particular location and don't as easily move or adapt to changes to their habitat.
During a recent trip to Tahoe, I also stopped up at the edge of the Desolation Wilderness, hiking up the Lyon's Creek trail during some light rain. Along the way I was able to photograph an anna's hummingbird feeding on indian paintbrush, along with a nashville warbler hunting for bugs in the trees. These two images below were captured with my more portable EF 100-400mm f/4.5-5.6 L lens with the Canon EOS 70D body.
After this recent flurry of bird related photography, I used this as an opportunity to update the bird library on this website, adding some newer images and some new species since last making changes the previous year. You can peruse it here.
| | | | |
| --- | --- | --- | --- |
| American bittern | White-faced ibis | Wilson's phalarope | Western sandpiper |
| Purple martin | Tri-colored blackbirds | Nashville warbler | Anna's hummingbird |