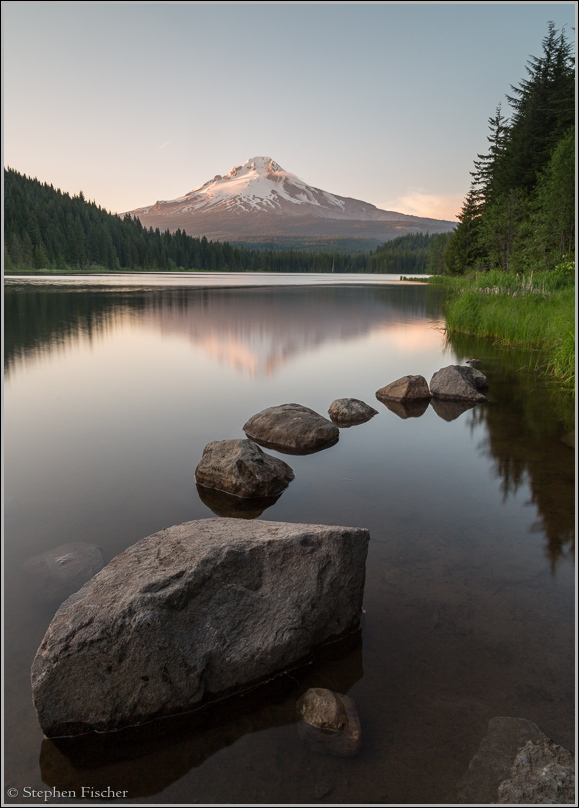 Mt Hood reflection
A reflection of Mt Hood from Trillium Lake at sunset. I camped along the shores near the end of May while traveling from central Oregon up to Portland. While scouting for evening photo-ops, I hiked a trail that follows the perimeter of the lake looking for an ideal composition ahead of time, spotting this particular near perfect quarter circle arrangement of rocks. But when I returned closer to sunset after eating, unforunately a number of local burn-outs getting excessively drunk and high were hanging out at this location. They finally left about 15 minutes before sunset, enabling me to swoop in for this composition just in the nick of time. This particular image was captured with the Canon EOS 5D mark III with the EF 24-105L f/4 lens. I used a 6-stop neutral density filter in order to slow down the shutter speed for smoothing out the movement of the water. Settings were 24mm, f/14, 10 seconds, and ISO 100.
While camped at Trillium Lake, I was pleasantly surprised by the number of other intimate compositions possible here that evening and the next morning. There are a number of different wildflowers one can find including the lake's namesake, the trillium flower.
The next morning after breaking camp, I took a 3.5 mile hike (each way) up to Ramona Falls about 10 miles down the mountain to the west. The trail to these falls is just a short jaunt off the Pacific Crest Trail that passes nearby. As far as waterfalls go, this is one of the most impressive ones I have seen. A couple of images of this are show below.
All content and images are property of Stephen Fischer Photography, copyright 2014-2015. Last updated: 6/8/2015 ()