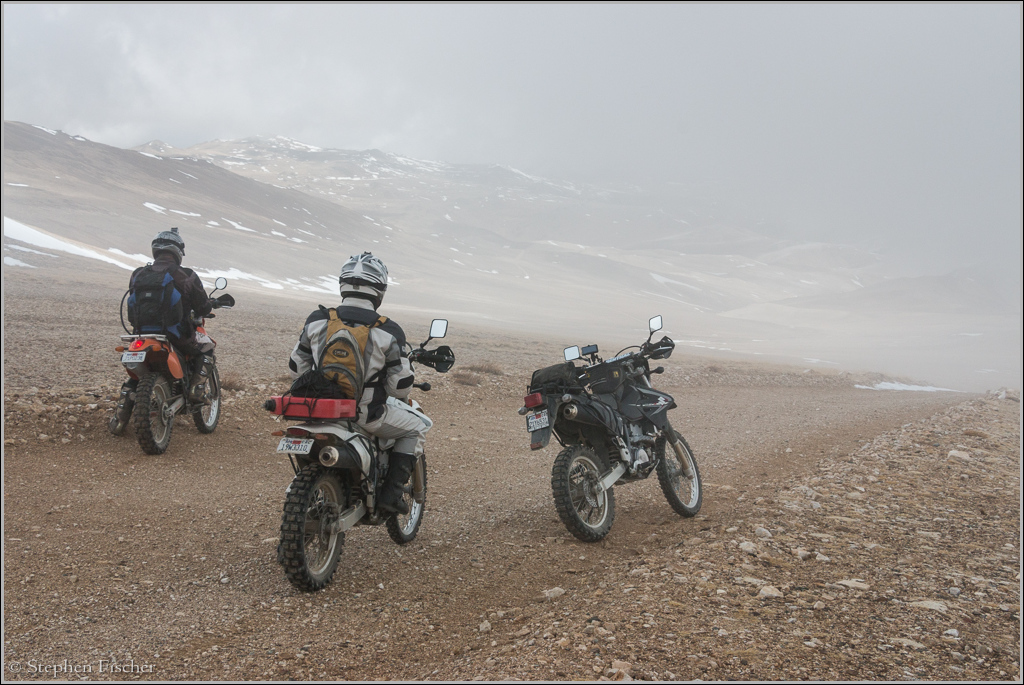 Onward and Upward
Ascent up the White Mountains into the clouds on dual sport motorcycles with two other friends Randy and Tucker. Being above the timberline, the stark and treeless landscape up in these mountains at this altitude looked reminiscent of what one would expect if climbing in Nepal.
We started out that morning from of our camp near Bishop, and headed up Silver Canyon to the main ridgeline of the White Mountains, reaching the Bristlecone Pine National Forest from the backway. Fortunately the gate was open from Silver Canyon to allow for this passage. After reaching the Patriarch Grove at about 10,500 feet in another 9 miles, we encountered freezing and snowing conditions, but with the roads still passable with the bikes. So we then pressed on and headed up the road toward the White Mountain research station to see just how far we could go. This image above was captured on one of the successive saddles as we continued upward into the cloud layer that was snowing on us a thousand feet below just 30 minutes earlier. At certain points we had to dismount and walk the bikes through the snow with the engines running while keeping our hand on the throttle to keep power to the wheels. Eventually we had turn around after encountering snow fields covering the road too extensive to practically cross any longer. By then we had reached an altitude of close to 12K feet. We then retreated to the Schulmann Grove for lunch, and afterwards headed back down the mountain on the asphalt via White Mountain Road, and Highway 168 to Big Pine on 395, encountering sleet, hail, and then rain along the way; making for a cold and somewhat painful ride back.
Photography while traveling on my dual sport motorcycle is still something I am trying to better perfect. I keep a Canon EOS 70D DSLR with an EF-S 18-135mm f/3.5-5.6 STM lens in a bag on the tail as separately stuffed in an inner padded top loader bag, but it is not quick to access while riding with others and not holding up progress. For quick photographs I also currently keep a Panasonic Lumix TS4 in my front jacket pocket, but the image quality and dynamic range is not of the same caliber as a DSLR. Ideally I would like to use a higher quality rangefinder type of camera with a bigger sensor that is pocketable and get better quality images. My top candidates are the Sony RX100 mark III, Canon G7X, or Lumix LX-100. The LX-100 looks best from a quality and performance standpoint but is a bit on the large side for the jacket pocket. The RX100mk3 and G7X are more pocketable, but have a rather delicate front lens cover shutter mechanism that tends to break rather easily when kept in a pocket and subjected to the abuse while off-roading with the motorcycle. I may have to settle for one of these with the addition of thin carrying case to further protect the front lens element.

The other facet of motorcycle photography I am exploring is on how to better capture images while on the move. I recently ordered a quick-release camera mount (CapturePRO camera clip) that can attach to a should strap or belt for quick and potentially one-handed access by my left hand with a push of a button while continuing to use my right hand on the throttle. A lanyard is also attached to my jacket or neck as a safety strap in case I drop (or am forced to drop) the camera while riding. Given this would be hanging off my body, I will use this with a more shockproof camera like my Lumix TS4. After some local test rides, I am still in the process of tweaking this for a more efficient access.
Overall this was an epic dual sport ride for our bucket list, and one I would like to repeat again when there is less snow and it is possible to go even higher. This particular ride was just one day of five days of riding on our dual sport motorcycles in the Eastern Sierras and the surrounding territory. I plan on posting a more comprehensive trip report of this on the Motorcycle Corner page of this site within the next week.
All content and images are property of Stephen Fischer Photography, copyright 2014-2015. Last updated: 4/27/2015 ()