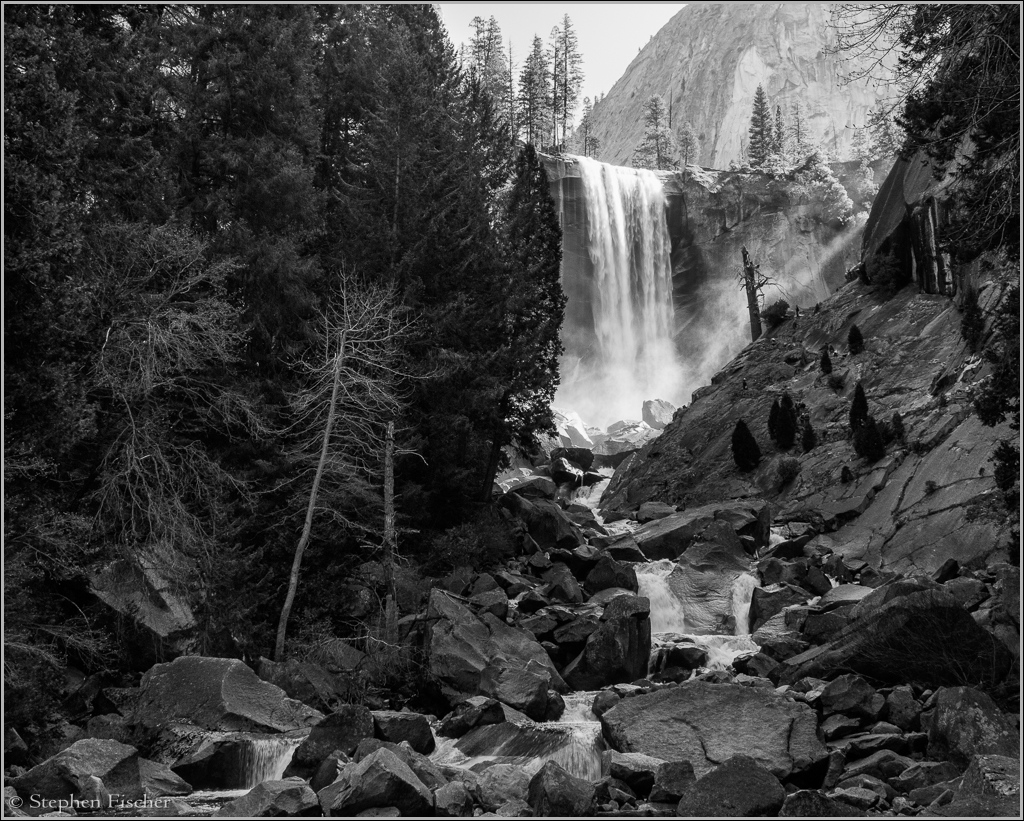 Vernal Falls (in black & white)
A classic composition of Vernal Falls at Yosemite National Park processed as a black and white image. The image was captured during a visit for a couple of days earlier this week. This time I traveled there on my F800GS adventure motorcycle staying in one of the tent cabins at Curry Village. To keep my gear and weight to a minimum I took just my Canon EOS 70D with the EF-S 18-135 STM f/3.5 -5.6 lens, circular polarizer, a smaller Gitzo travel tripod with the more compact RRS ballhead plus a cable release. I have been happy with this camera setup for travel, as it is fairly compact and more easily stowable on the motorcycle, yet can capture some very high quality images.
Currently the waterfalls at Yosemite still have a reasonable volume of water, including Bridalveil, Yosemite, Vernal, and Nevada Falls. However, I don't expect these to last more than another month or so due to the lack of a snowpack. Cooke's meadow and the grasses in other meadows of the valley are already brown (or perhaps never even turned green this spring?). What should also not be so surprising is that the dogwood have already started to bloom. Typically these plants don't bloom until toward the end of April, but due to the extreme drought, all the plant life seems to have moved up their calendar by a month this year. Visiting the Merced giant sequoia grove, I was also surprised to see how dry the conditions were there too, lacking in the lushness one normally sees in the spring.
While on this visit I also used the opportunity to photograph Yosemite Falls by the light of the moon (as partially obscured by clouds). Because of the clouds, capturing a moonbow did not work out. But nonetheless some interesting captures were achieved that include the stars with enough light to also illuminate the waterfall (see the third image of the second row). The best settings were achieved at ISO 3200, f/4, and 30 seconds. The 70D sensor quality for long exposures tends to roll-off more noticeably at any higher ISO settings.
All content and images are property of Stephen Fischer Photography, copyright 2014-2015. Last updated: 4/4/2015 ()