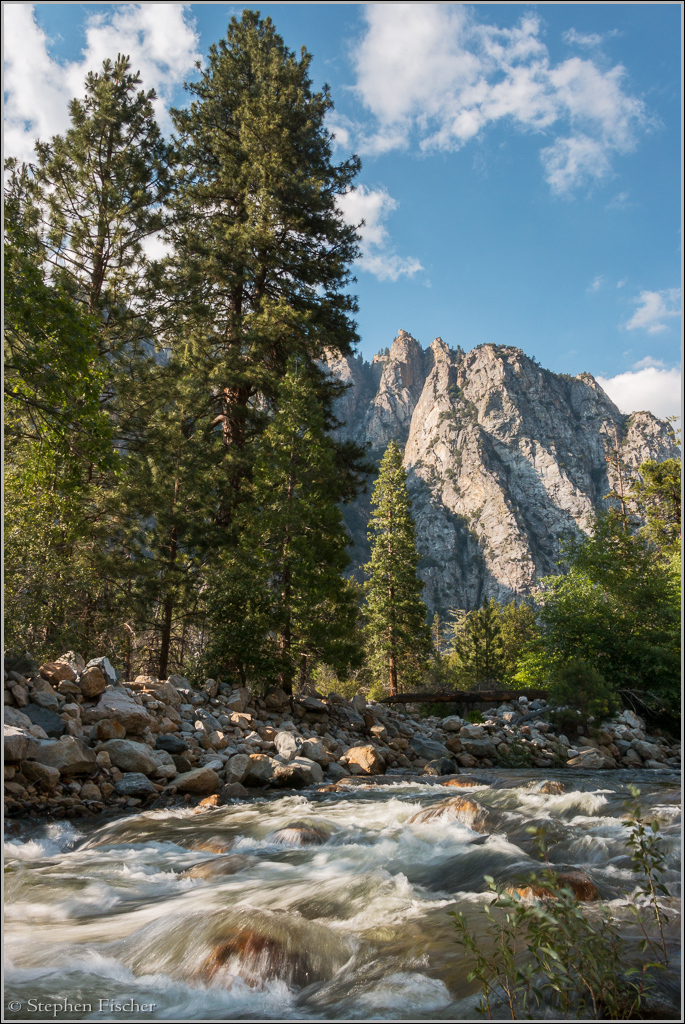 Kings River of Kings Canyon National Park
The Kings River running through Kings Canyon National Park. This section of the river is just west of the junction with Roaring Creek and the falls. I visited this less traveled portion of this national park in June on my F800GS adventure motorcycle (see the image on the middle row below), camping a couple of nights up near Grant Grove, using this as my base for exploring the area and the adjacent Sequoia National Park. The beauty of Kings Canyon is more understated, and does not fully reveal itself until the road reaches the bottom of the canyon alongside the Kings River. Compositions along this rather majestic and muscular river are plentiful with the presence of some beautifully sculpted granite, a couple of waterfalls, and some secluded meadows. The end of the road at Cedar Grove is also a launching off point into the High Sierras for those wishing to explore the area by backpack. To me, it seems like this canyon is how I envision the Hetch Hetchy valley of the Tuolumne River may have looked like prior to being submerged by the O'Shaugnessy Dam in 1923, despite a heart felt effort by the late-great environmentalist John Muir to stop it.
The late afternoon light is best for photography in this canyon due to its opening toward the west. The lack of crowds and tourist busses is quite refreshing in contrast to the mob scene one finds 3 hours north in Yosemite during the summer months. When visiting in the middle of June, I could also find some dogwood still in bloom in the Giant Forest of Sequoia National Park, enabling some compositions that also include the giant sequoia trees. Bears also seem more common here, having encountered them on each of my last two visits. But due to traveling by motorcycle, I decided to forego bringing my trusty 100-400mm telephoto lens (and thus limiting my wildlife/birding photography abilities), sticking with my more compact kit similar to what I use when backpacking (see the previous weeks blog).
All content and images are property of Stephen Fischer Photography, copyright 2014-2015. Last updated: 7/12/2015 ()