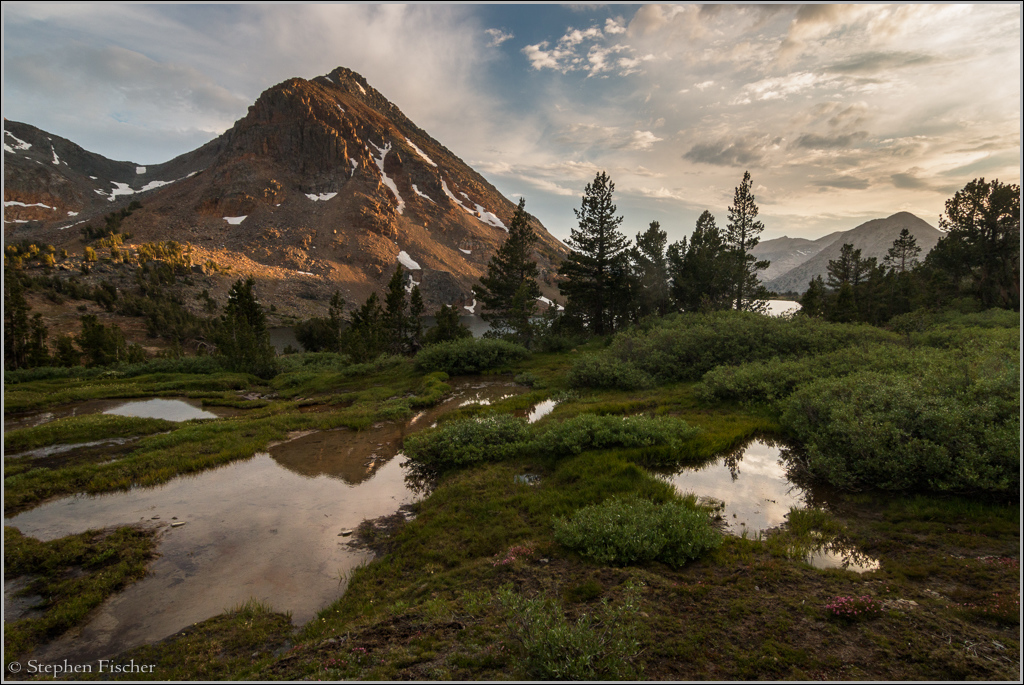 High Sierra sunset
Sunset over the High Sierras in a lake basin north of Yosemite. I backpacked into the Hoover Wilderness with a couple of other friends (John and Randy) last week, exploring this area and some other adjacent lake basins, capturing some high quality photographs along the way. The lake at the base of this unnamed mountain in the image above is known as Summit Lake, with camp reached in about 6 miles, after crossing an 11,200 foot mountain pass from a trailhead starting at Virginia Lakes. Due to the number of photogenic opportunities, we decided it was most convenient to use this area as a base camp for further explorations to lakes further to the north toward Green Creek, and west to the park boundary with Yosemite. We were fortunate to have a range of weather that provided some diversity to the skies, plus some calm winds/water in the early morning that helped facilitate some compositions with reflections.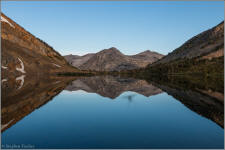 Mosquitos tended to be on the heavy side, especially down at the water's edge for some of the lake related photography. Deet was a necessity to help keep them at bay, being careful not to get this corrosive chemical on my camera gear when applying it. For some of my images, I must have had to digitially remove about a hundred spots to eliminate all the mosquitos captured in the frame. Another example of the annoyance caused by these pesky bugs to the photography is shown here to the right. Unfortunately I did not notice this until much later. The final retouched version after some surgery in Photoshop CS5 is shown below. Fortunately it was in an area that was relatively easy to fix up, given the solid blue color of the water.
I continue in my efforts to try to keep my camera gear to a minimum of weight, having converged to my current configuration that weighs 8 pounds. This consists of a Canon EOS 70D cropped sensor body, Canon EF-S 18-135mm STM IS lens, Tokina DX 12-24mm AF wide angle lens, Gitzo 1128 mk2 tripod, RRS BH-25 ultralight weight ballhead, cable shutter release, grad ND gelatin filter and filter holder for the wide angle lens, circular polarizer lens for the 18-135mm lens, spare battery, lens pen, and a microfiber cloth. After previous trips with either more or less equipment, I believe that this has ended up being the minimum necessary for capturing quality photographs without any signficant trade-offs in image capture. I have been bitten in the past when trying to forgo some equipment like the wide lens or a decent tripod. With my other backpacking gear, my total pack weight ends up being about 45 pounds, including fuel and food necessary for 3-4 days. This can still be painful on the longer hikes, but tolerable knowing that you will have shed a few more pounds from consumed fuel and food on the way out.
All content and images are property of Stephen Fischer Photography, copyright 2014-2015. Last updated: 7/5/2015 ()