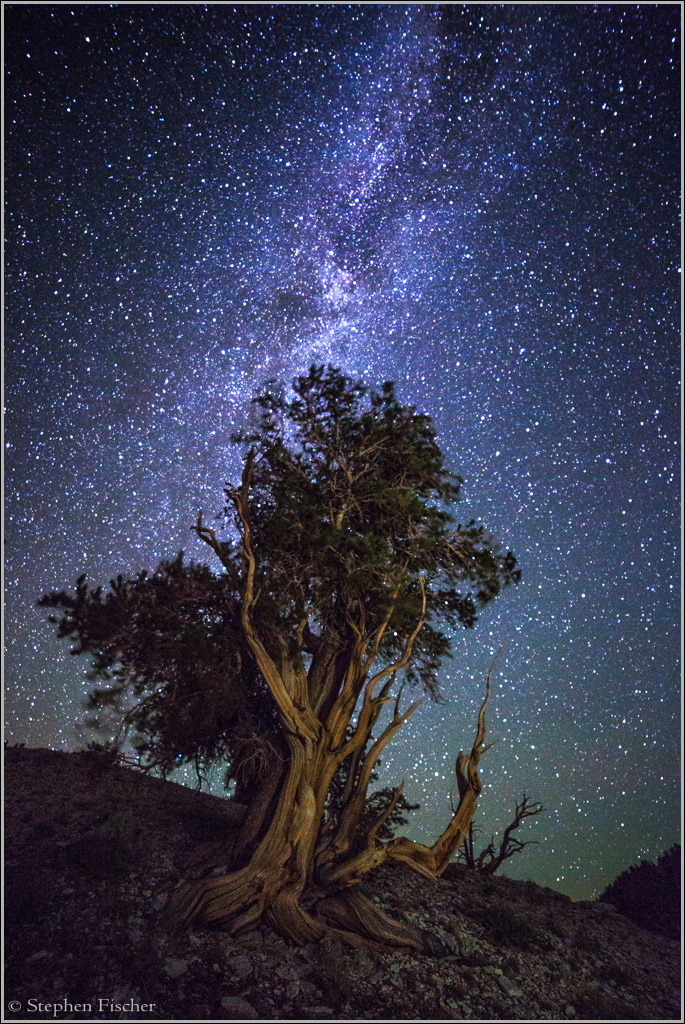 Bristlecone Stars
The backdrop of the Milky Way with a majestic bristlecone pine in the foreground. Photographed in the White Mountains of California, east of the town of Bishop in the Owens Valley.
I visited this location just over a week ago when skies were expected to be dark. After establishing camp back at the Grandview Campground, I scouted the area that afternoon looking for trees that would make a good night time composition. My search criteria consists of looking for sufficiently attractive tree(s), their isolation from other trees, orientation for capturing the Milky Way in the background, and ones that I have not previously photographed.
Returning that night at about 9 pm after dinner, unfortunately I was met with some extremely strong and chilly winds due to a northern storm front moving in. This resulted in some vibration of my camera gear and movement in the tree branches. Given these night exposures are typically at about 30 seconds, it is extremely important to have a solid mount for your camera to ensure a sharp result. To help counter this situation, I used three approaches: 1) Shield the camera and tripod from the wind with my body, using a wireless remote to control the shutter release. 2) Worked trees on my secondary list that were more on the leeward side of the mountain ridges. 3) Concentrated on trees that were more barren with less pine needles, and thus less likely to move in the wind.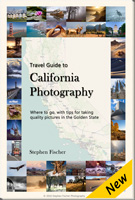 If you like what you see here and want to learn more about photographing in the White Mountains, night photography techniques, or in general where to go in California for the best photography results, then check out my book available on Amazon here. WIth over 250 locations covered with 45 separate maps with many color reference images, a wide range of landscape and wildlife locations are documented.
All content and images are property of Stephen Fischer Photography, copyright 2010-2017. Last updated: 9/30/2017 ()