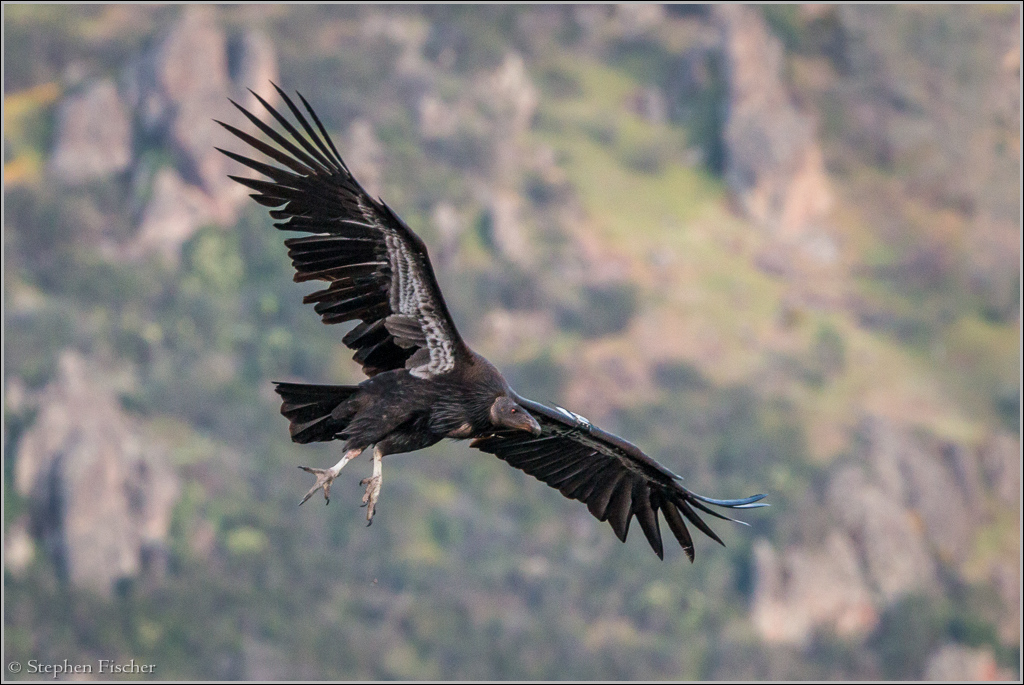 California Condor #45
A California Condor coming in for its evening roost at Pinnacles National Park. This park is probably the best and most surefire place to see and photograph these rare and magnificent birds. As of December of 2015, there are only 435 California Condors in the wild. After almost being reduced to extinction (27) thanks to the prevalence of lead based ammunition (they sometimes ingest the kill of other animals shot by hunters), they are slowly recovering after a careful and meticulous captive breeding program to bring back their population, combined with an effort to eliminate lead ammunition in their habitat. WIth a wingspan of 10' they standout from other birds in the sky. To the untrained eye, many may have some difficulty distinguishing these from the much more prevalent turkey vulture. The condors can be most easily distinguished by their flatter wing profile when extended, the white patches underneath their wings, and a larger head (albiet still bald). This particular bird appears to be a juvenile and has its feet extended as it is coming in for a landing for its evening roost on a nearby gray pine that I happened to be positioned nearby. You can see the radio transponder used by biologists for tracking their status on its left wing (as seen more easily in some of the additional photos below).
The best place to see these birds at Pinnacles will be at the top of the High Peaks Trail. Sunny or partly cloudy skys in the afternoon work best, being more conducive for when thermals will be present. With about a 1500' climb and a little over 2 miles each way from the Bear Gulch parking lot, plan to take at least an hour to reach the top if in reasonably good physical condition. Given this climb, for my photography I skipped lugging the bigger 500 and tripod this time, and instead carried a Canon 100-400mm L f/4.5-5.6 mk2 lens with my lighter 70D body, shooting handheld. Given the size of these birds, acquiring and tracking them is pretty easy. The trick is patience and a vigilant eye to pick one of them out from the dozens turkey vultures that will also be riding the thermals.
While on hikes up into the Pinnacles, you will also encounter magnificent views of the various spire shaped rocks jutting out of the mountain sides. Formed from prior volcanic activities, these needle shaped rocks were once lava protrusions from below, with the weaker rock that used to surround them eroded back. The rocky spires tend to be popular roosting or even nesting locations for some of the vultures and condors, while also being attractive subjects for photographic compositions under the right light.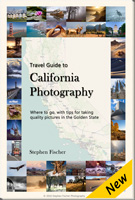 If you want to know more on photographing Pinnacles National Park or any of what I consider the most photographic worthy locations in California, be sure to check out my book now available on Amazon here. WIth over 250 locations covered with 45 separate maps, I also discuss other birding and wildlife locations in California with specifics on where and when to find them.
All content and images are property of Stephen Fischer Photography, copyright 2010-2017. Last updated: 4/16/2017 ()