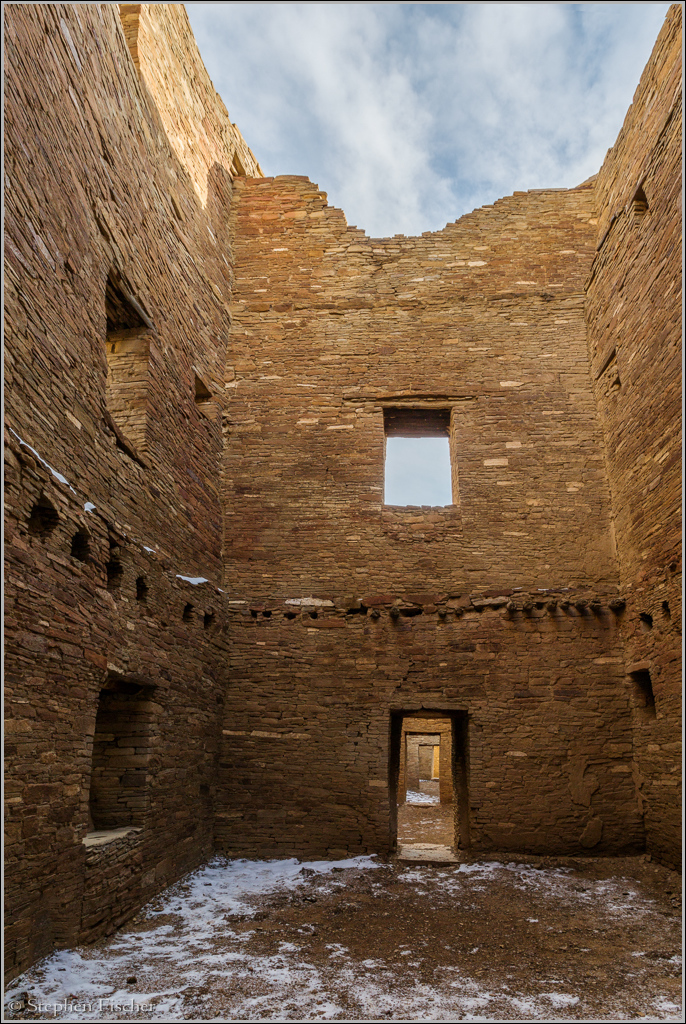 Chaco Canyon winter

An interior room of Pueblo Bonito, the largest complex of the Anasazi ruins in Chaco Canyon, New Mexico. Captured under winter conditons while visiting this site last week as part of a week long road trip through the Four Corners area of the southwest. Traveling there with a couple of other photographer friends John Murray and Tucker Hammerstrom, we were fortunate with more dynamic weather, resulting in more interesting light. Conditions alternated between overcast, falling snow, and partial clouds, requiring some pauses in our photography for the right light.

Getting to Chaco Canyon can be a bit tricky this time of year due to the snow and mud on the dirt road the last 20 miles for reaching this place. On the drive up with some snow flurries, I was unsure if access would be possible once the road becomes dirt, but it was worth taking the chance. Tucker who followed us up here from Albuquerque in his rental car, had to catch a ride in my Subaru Outback for the last 10 miles when the road conditions become more iffy. If it was much wetter, warmer, (or more snowy), then getting in or out for even the Subaru would not have been easy, as the mud here can be extremely deep when sufficiently wet and soft. But the reward for our perserverance was more ideal photographic conditions, and having the entire place to ourselves (other than a few friendly staff members from the NPS).
The images shown here were captured with my Canon EOS 5D mark III, switching between EF 24-105mm L f/4 and EF 17-40mm L f/4 lenses, and a lens hood to keep snow off the front element on occasion. A tripod and cable shutter release was necessary for shooting the building interiors and some of the bracketed landscape exposures. Capturing some of the interiors with the wide angle was tricky without having some excessive undesired distortion given the limited amount of space. I addressed this via some perspective correction adjustments in Photoshop CS6 using the transform:perspective tool for this cover image, along with the first image below. As typical for these kind of drop-in and quick "combat type" of photography situations, it was necessary to work quickly given the fleeting nature of the light and limited time before sunset. Over time I have adapted to this by traveling light to be more efficient, with no photo bag if possible, and just keeping a spare lens, filter(s), and battery in my jacket pockets.
This is my second visit to Chaco Canyon, having also photographed it back in April of 2010 on a different pass through the area. You can read about that trip and images here. It continues to be one of my favorite locations for native american ruins, being quite impressed by the magnitude, complexity, and craftsmanship. Witnessing this architecture first-hand should cause any skeptic of the advanced capabilities of this ancient native indian culture to rethink their assumptions.