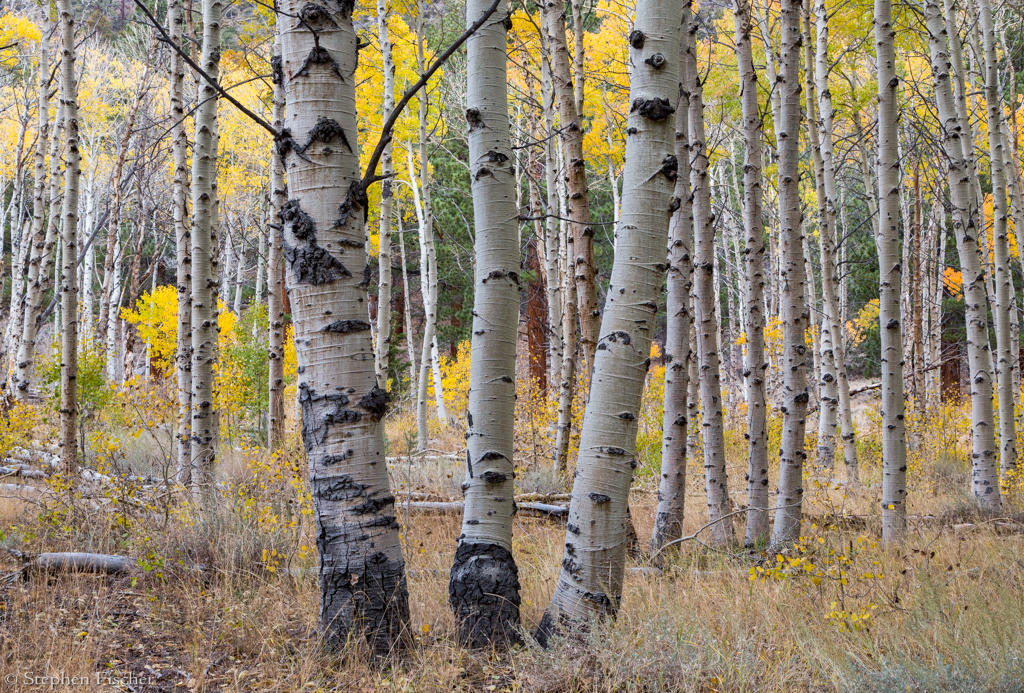 Aspen trunks
Aspen trunks among the fall colors. I photographed this grove of trees October 10th during a fall color tour through the Eastern Sierra. This particular grove was found up a secluded canyon off the beaten path within the Mono Basin while exploring for new locations. I got a tip for this spot while hanging out at one of the hot springs popular with the locals in the Benton area east of Mammoth.
This year the fall colors are more subdued due to a significant lack of the usual monsoon rains this last summer. The trees with the best color tend to be those along streams that are still active, while many other groves with less water have prematurely browned. But some groves have not yet turned and still green, so it is still hit-and-miss. To summarize my findings:
Green Creek and Dunderberg meadows (10/6): Colors severely muted due to insufficient water.
Virgina Lakes road (10/6): Trees already spent.
Lundy Canyon (10/6): Color just starting to emerge, half green and half yellow. There seems to be sufficient water here to result in good colors. Probably the best potential of the locations visited.
June Lake loop (10/7): Color just starting to emerge on groves along Rush Creek. Up on the mountainsides the trees are already blown out. Good stands of yellow along Silver Lake.
Rock Creek (10/7): Color is peaking at the lower half of the road, while blown out at the top half. Trees along the creek are quite lush near Big Meadow campground.
Bishop Canyon - North (10/8): Mostly blown out, don't bother.
Bishop Canyon - Sabrina Lake (10/8): Color peaking now. Many tourists makes parking difficult and hard to get reasonable compositions.
Groves up to Walker Lake via dirt road off the northwest corner of the June Lake loop (10/10): Color peaking now. Lots of orange and reds.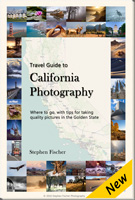 Conway Summit (10/10): Mixed bag. Some groves are spent, while others still have color.
Hope Valley (10/10): Good colors right now, especially across from Sorenson's and further up 88 near the popular cabin on the way to Carson Summit. Not so much in the main valley.
Highway 88 on west side of Carson summit (10/10): Mostly spent.

If you want to know more on where to photograph in California, be sure to check out my book now available on Amazon here.
All content and images are property of Stephen Fischer Photography, copyright 2010-2016. Last updated: 10/15/2016 ()