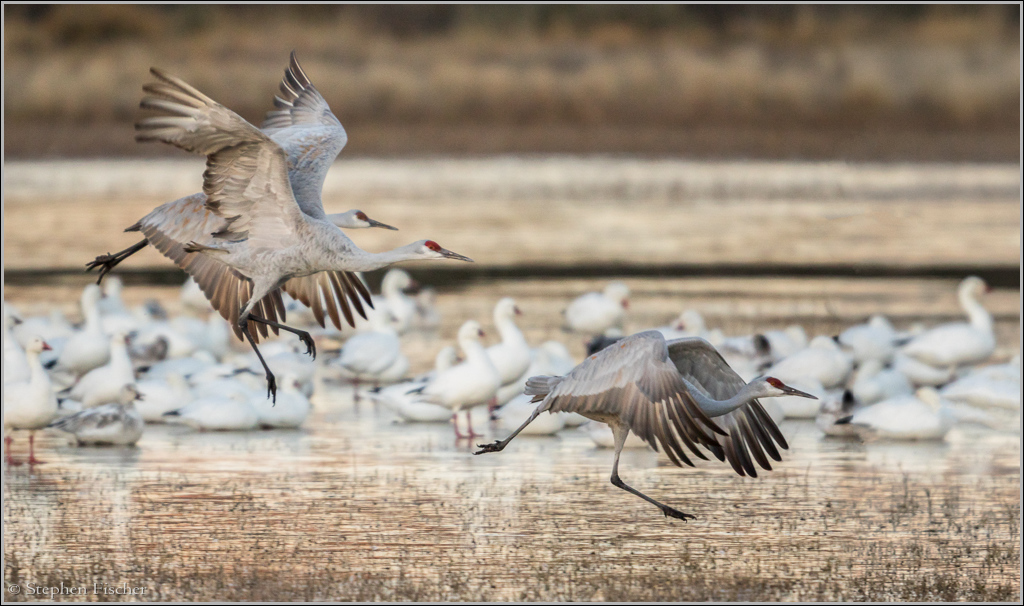 Sandhill crane take-off from Bosque del Apache
A group of sandhill cranes taking off from the north pond at the Bosque del Apache wildlife refuge of New Mexico. Note the snow geese standing on the lake in the distance. This is reflective of how cold it was, with temperatures in the mid teens in the mornings. Some of the cranes had some difficulty initially getting going due to ice that had frozen up over night around their legs.
I visited this area about two weeks ago, spending 3 days for bird photography at this unique world-class bird preserve. Despite being based in the central valley of California and having numerous preserves within closer distance, Bosque continues to be a special place for me. The scenic backdrop of mountains combined with the numerous birds and ease of their approachability, creates a more ideal recipe for winter bird photography.

I traveled here as part of a broader road-trip with two other birding photography friends: John and Tucker. While there, we saw the usual other die-hard photographers, with some traveling from across the country for their annual pilgrimage to this location. With this being my fourth visit to this reserve, I found conditions to be more favorable for the birds this year, with more water and crop fields available for roosting and foraging. The downside is that it has resulted in a wider dispersal of the birds that have more choices, with not all their hangouts so easily reachable for photography. This year I found the best results in the morning at the north pond (as shown in the first image below), while the fields around the coyote and farm decks to be best for the late afternoon. The bird population tends to peak by early January, so there is still time for a visit this season. You can read more about Bosque del Apache at a prevous detailed trip report I have documented here.
All content and images are property of Stephen Fischer Photography, copyright 2010-2016. Last updated: 12/19/2016 ()