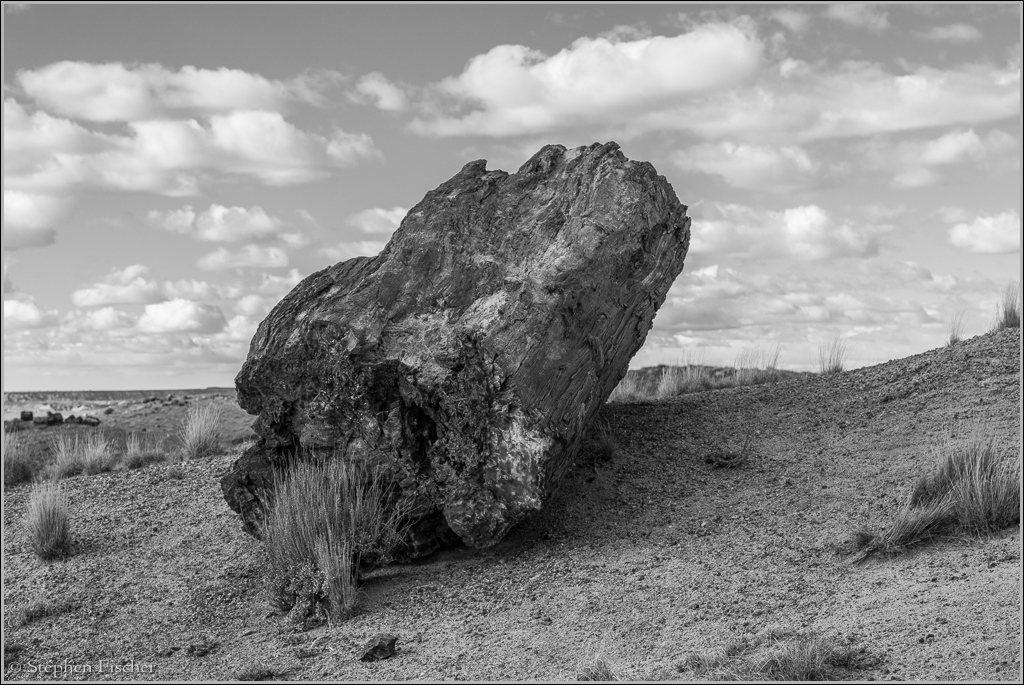 Prehistoric Log
Remains of a petrified tree of the Petrified Forest National Park in Arizona. Yep, it is just a piece of wood on some dirt. Albiet over 200 million years, with the original wood pulp of this prehistoric tree replaced by minerals of silica (e.g. quartz).
Rendered in black and white to better emphasize the textures and starkness of this landscape. It is quite a facinating area to see so many of these petrified remains out in the open, exposed to the elements, and somehow still on the surface for all to see. I wonder why such fossils are not buried deep within lower layers of the sedimentary rock? Despite dating back to the Triassic Period of over 200 million years ago, many of these petrified trees are quite recognizeable with by their core, rings, and the outer bark layer. It is surprising to also note that they have retained their original shapes, as if they were just recently transformed to stone, as if given the look by Medusa, and suddently falling over dead.
I visited this location during December while on a photography related road trip through the Four Corners area of the Southwest. The geology of the terrain reminds me of some of the Capital Reef regions I have visited in southern Utah. There is quite a bit of the familiar looking conical shaped layer-cake looking bentonite clay formations that seems have some sort of geological relationship with these petrified trees (e.g. Cathedral Valley). But the concentation of petrified wood itself here is what is most unique and rivals that I have seen anywhere else in the Southwest.

Given a limited time budget of less than 2 hours for my visit, I came in from the south off of US-180 after passing through the town of Holbrook of Route 66 fame (see the image of the Wigwam motel to the left), and then taking the auto route through the park, before emptying out again to the north back on I-40. The Crystal Forest and Jasper Forest closer to the southern entrance tended to have the best concentration and potential for photography. Some spots off the side of the road between there and the Rainbow Forest Museum were also of interest for the bentonite formations, with some time spent exploring a few areas after parking at some improvised spots off the side of the road. When I have more time and when in the area again, it would be nice to explore more of the park, and plan some photography closer to the golden hour. One just has to be cognizant of the park closing hours to visitors before 8am and after 5pm.
All content and images are property of Stephen Fischer Photography, copyright 2010-2017. Last updated: 1/8/2017 ()