Eastern Sierra dual sport ride

April 19-24, 2015
In late April of 2015, myself and two friends (Randy and Tucker) set out on a six day dual sport camping trip traveling through the eastern Sierras, starting near Tahoe, and reaching down to Big Pine south of the town of Bishop. Randy and myself have Suzuki DRZ400S dual sports that have been armored up, while Tucker brought his recently purchased used 2006 KTM SXC 625 dual sport. Randy recently did the carb re-jetting and 3x3 air box mod on his DRZ400S, while mine is still stock. We have observed his gas mileage is now about 5% worse, but his power at the lower end is noticeably stronger. We traveled in Tucker's full-sized pickup with our camping and riding gear in the back, and towing the bikes on a three rail trailer. We came prepared to be self-sufficient for dry camping, bringing food, extra water, and more fuel for the bikes.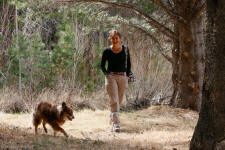 Getting a late start the first day, we set out to camp at the Blue Lakes region south of Hope Valley. But the gate into the lakes region and its campgrounds was not yet open for the season, so we set up an improvised camp site off a dirt road in the area. Mojgan, wanting to see what fun that these guy trips we are always boasting about, also tagged along for the first two nights, bringing Buddy to keep her company while we were out riding. She drove up in a VW Westfalia, which also made the camping more convenient.
Day 1 ride: Hope Valley
After establishing camp on the first afternoon in the Hope Valley, we set out for our first ride exploring some hunting roads along the mountain slopes between Carson and Luther Passes. I was roughly familiar with the area and knew a backroad in after using it as a previous dry camp base during some fall color photography a few seasons back. But this time, we were able to explore much further than was practical last time with a 4wd, given a number of tight creek crossings and fallen trees. Up close to a saddle in the mountains toward the west we reached a small lake (Scotts Lake), taking in how drought depleted it already was with all the exposed tree stumps. We continued upward for another mile before hitting and turning around at a forest service 'trail closed to motor vehicle' sign. At this point it started to rain as a result of a late thunderstorm that moved in that afternoon. In working our way back to Hope Valley away from the storm on a different route further to the east we encountered a few different locked gates. But thanks to the narrow profile of our bikes, their off-road agility, and some creativity, we were able to continue forward and get back to the highway despite these obstacles.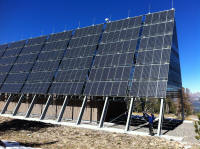 Not yet done, we checked out the road to Burnside Lake to see if it was open, with the potential to see how far we could go out to Burnside Lake or up Hawkins Peak. Having done both the previous summer, we were surprised to find near the top of Hawkins Peak a quite extensive solar array, a large non-descript ~80' long building, and an open flat area suitable for landing a helicopter. We jokingly referred to it as one of Dick Cheney's secret undisclosed locations (see the image on the left). But with the gate still closed from the winter season, and not feeling like risking a ticket from a ranger, we decided it would be more prudent to turn around and try our luck elsewhere.
Lastly for the day, we headed back west past our campsite and up the road that passes to the left and south of Red Lake. This road crosses a mountain pass to the south at a point that parallels the Pacific Crest Trail, and on the other side drop you down into the Blue Lakes basin. We have done it before in Randy's FJ Cruiser, and were curious to see how far we could get on the motorcycles before the snow would stop us. Sure enough, about half way up the snow on the road became continuous, making travel on the bikes impractical to continue any further. At our turnaround point we also encountered a reasonably new snowmobile that had previously crashed with its left front skid badly damaged, that apparently had been abandoned earlier in the winter. It still had half a tank of gas, and after joking about what are the salvage rights for abandoned vehicles in the wilderness, we figured the rightful owner if they have a clue should be back up here soon with a pickup or flatbed trailer to recover it.
| | | | |
| --- | --- | --- | --- |
| The Westy at our ad-hoc camp site | Mojgan and Buddy hanging out by the stream | Scotts Lake | Low lake level |
| Time to turn around | Abandoned snowmobile | | |