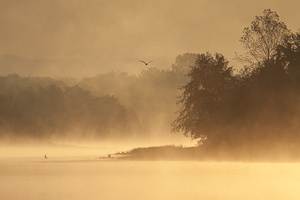 American River Parkway
For most locals to Sacramento, the American River Parkway is considered the crown jewels of the area. It is one of or the largest preserved river park in a metropolitan area in the country. For many more outdoor and fitness oriented folks, this is the main quality-of-life attraction of the Sacramento region. It is a protected area on both sides of the American River as is snakes through the Sacramento suburban region from that Nimbus dam that forms Lake Natomas to where it joins the Sacramento River at Discovery park. The American River Parkway is free from development and has an abundance of wildlife and scenic beauty. There is also a paved bicycle/pedestrian trail from Discovery Park that runs the length of the river up to Folsom Lake at Beales Point, for a total distance of 32 miles. This main trail, the riverway, and many other dirt or gravel trails along the river are taken advantage of by joggers, cyclists, walkers, kayakers, canoers, rafters, fisherman, equestrians, bird watchers, and many others. It is the perfect place to get away from the hustle and bustle of work, the suburbs, the malls, the traffic, the television, or anything else that annoys you about modern "civilization".
As an overview to the parkway and its photographic potential, follow this link (or by clicking on the image to your left). There you will find a map of the area along with click-able images for different locations that represent some of the more unique locations that Steve likes within the parkway.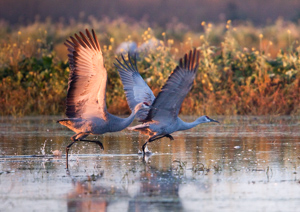 Cosumnes River Preserve
The Cosumnes River Preserve offers a great natural wetlands environment for a number of waterfowl and wading birds including Sandhill Cranes that migrate here during the winter months. It is a popular location for birders and bird related photography. So if you don't have the money or the time to get out to Bosque del Apache for Crane photography, this is a reasonable substitute, albeit on a smaller scale.

If you are into kayaking, the preserve is also a convenient put-in point with parking and a handy dock for paddling the Cosumnes River. There is a small tide, so you do need to pay some attention to this for longer paddling efforts on this river.

The Cosumnes River Preserve is located about 30 miles south of Sacramento off of I-5 (Twin Cities road exit to the east), the preserve is along the Cosumnes River and represents the last free flowing unregulated river on the western slope of the Sierra Nevada mountain range. As a result, you will see wildlife in its more natural state as the water levels from this river ebb and flow with the seasons.