Slot canyons of the Colorado Plateau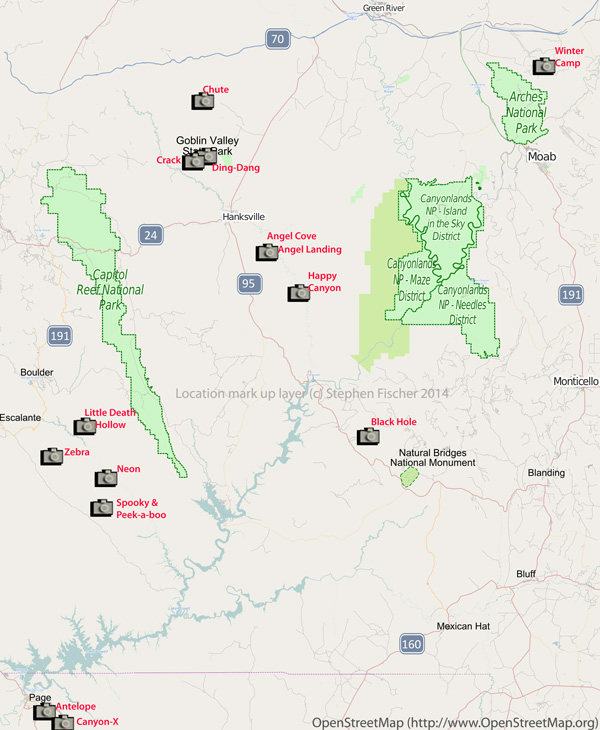 Here you will find a photographically documented number of slot canyons of the Colorado Plateau, both non-technical and technical. Myself with other friends from our "Middle of nowhere gang" have explored and photographed over 20 of these canyons so far. This region of the Colorado Plateau seems endless in the opportunities for such canyon explorations. Based on the amount of photographic content I have built up from my various travels so far, I decided it was time to pick some highlight images from each canyon exploration, and document them here with a bit of a back story for each trip. I expect to regularly update these pages in the future, building a growing library of photographs captured as myself and our group continue to explore new areas. The map to your right provides a rough indication of each location as documented on separate pages. The icons on the map are clickable (hyperlinked), taking you to the specific photographic page for that particular slot. You can also find a list of each sorted by difficulty class at the bottom.

Some of the canyons on Navajo land require a paid guide to access or some other type of fee (i.e. Canyon-X and Antelope canyon). Many of the other less popular slot canyons require a high clearance 4wd to reach the trailhead. Over time, as we have advanced in our canyoneering skills through more training and practice, we have brought more of our friends into the fold, and continue to expand our areas for exploration. The wet canyons (B or C rating as defined below) sometimes require the use of a wetsuit or drysuit, depending on the time of year and amount of water, and deepness of the slots.

One challenge in photography of the more technical canyons is the transport of expensive and more delicate camera gear. After losing one DSLR in a more technical wet canyon (Pine Creek in Zion) and regularly banging around my other camera bodies through often tight and abrasive sandstone rock surfaces, I have continued to explore and experiment with different photographic gear to better survive these conditions, including a Panasonic TS4 water/shock-proof point-and-shoot, and a GoPro Hero 3+ Silver. Because of the limited image quality of these smaller cameras, I often also lug along a traditional DSLR in a protective bag in my pack along with a small travel tripod. For canyons expected to have water, this means packing it in a dry bag or dry keg. But I am still not satisfied with my shooting arrangement for this environment so far. The bigger DSLRs require more time to access or stow in your pack, slowing the pace of the rest of team, and also getting in the way when wiggling through tight areas. Use of a tripod further aggrevates this. The smaller waterproof cameras that I can more easily stow on my clothing or easy reach from a pocket in my pack don't have the dynamic range or high ISO performance required in the demanding lighting conditions of a slot canyon. The helmet mounted cameras such as a GoPro have also been less satisfying in being able to better control the composition, focal length, white balance, and focus. Ideally I would like something compact like a Canon advanced G-series camera, but one in a protective waterproof housing that can also take a beating and an occasional drowning during a swim.
Slot canyons have a varying level of difficulty in access as defined by the canyoneering rating system as defined below.
Class 1 - Canyon hiking. Non-technical, no rope required.
Class 2 - Basic canyoneering. Scrambling, easy climbing or downclimbing. A rope may be useful.
Class 3 - Intermediate canyoneering. Rappels or technical climbing and/or downclimbing. A rope is required for belays or single pitch rappels. Retreat up canyon would require fixing ropes.
Class 4 - Advanced canyoneering. Aid climbing, multiple pitches and/or complex rope work may be required. Rappels longer than 200' typically fall into this category.
A - Normally dry or very little water.
B - Water with no or light current.
C - Water with strong currents or waterfall. Wet canyoneering rope techniques required.
I - Short. A couple of hours.
II - Half a day.
III - Normally requires most of a day.
IV - Expected to take a long day. Get up early and take a headlamp.
V - Multiple days.
If you plan on exploring any of these more technical canyons on your own or with other inexperienced folks, make sure you are familiar with the rating, sufficiently prepared with your equipment, have enough water and food, and skilled in your abilities. It is very easy for a mistake or oversight to lead a big mishap, including great bodily injury or death. Most of these locations are very remote, and there is a possibility that you may not see anybody else for days at a time. The buddy system just like that for underwater diving is also critical in case you find yourself in a jam, assist in a climb, or simply to have someone that can double-check your moves or rope work. When it comes to a class 3+ canyon or even a deep class 1 slot, something as simple as misreading the weather, or not having a long enough rope can make a difference between living or dying. I would highly recommend some climbing and canyoneering classes in order to get the necessary skills. The Zion Adventure Company in Springfield, Utah offers some great classes and also has reasonable rates for their rental gear. Tom's Utah Canyoneering Guide is an excellent reference on locations and general knowledge, along with this site documenting a large number of slot canyons of the southwest. There are other canyoneering books also available easily found through an internet search. More experienced folks may also appreciate Michael Kelsey's books including his classic Technical Slot Canyon Guide to the Colorado Plateau; a terse but densely packed book with more information than most can explore in a lifetime.