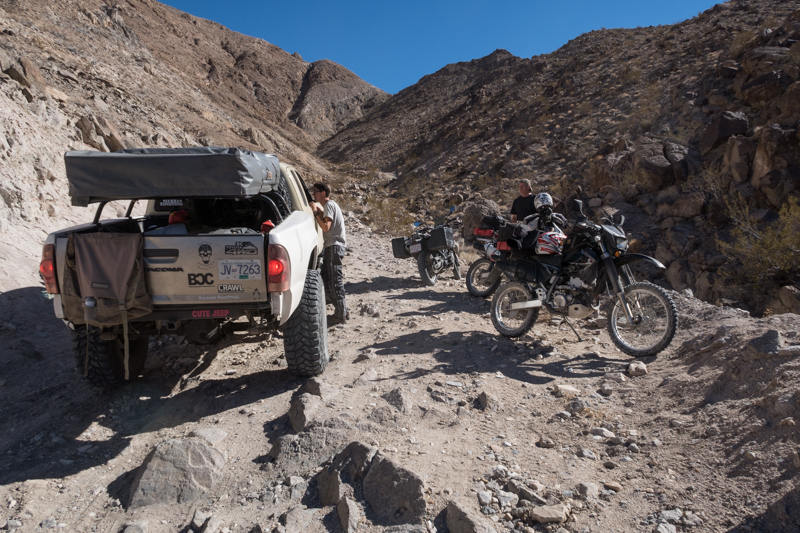 Asking for gas on Lippencott Road
After topping off the tanks including the Rotopax with fuel, along with packing a lunch and about 2 quarts of water each, we were on our way, heading west on Highway 190 for about 14 miles to Saline Valley Road to the north. We also carried the usual tools plus spare tubes for both tires in case of a flat. Given the remoteness of this terrain, it is important to be self sufficient.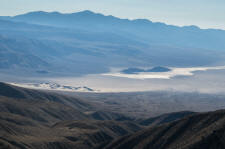 Saline Valley Road from the south starts out fairly smooth as far as dirt goes. Eventually it climbs up to about 6300 feet by the time you reach the junction for Hunter Pass. You will have impressive views of Panamint Valley back to the south from up on this ridge road. In the winter months it is typical for Hunter Pass (elevation: 7200 feet) to be closed due to snow (and sometimes even this section at the south end of Saline Valley).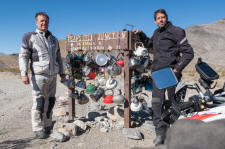 But given the weather has been warmer than expected for this time of year, it was not a problem passing through here at the beginning of November, with only a few patches of snow on some of the north facing areas in the shade. The terrain also changed to one more forested with juniper and pinion pine, being quite scenic and lush. It is a bit unexpected, unlike the more typical and dominant arid areas at the lower elevations of Death Valley.
Dropping down to the other side of Hunter Pass to the north, we traveled through the scenic Hidden Valley before eventually ultimately reaching Tea Kettle Junction. After stopping for the obligatory snapshot posing with the tea kettles, he headed to the west on the infamous Race Track Road. Its reputation for the most extreme washboard did not disappoint. It seemed rougher than the last time through here about 2 years ago. I didn't feel comfortable with my bike's speed over 35 mph without it seeming like something was going to disintegrate. After losing my GoPro off my bike last time here when the vibrations sheared it off its mount, I decided this time to take it a bit easier.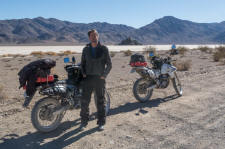 After stopping for lunch at the Racetrack playa, we then continued west over Lippencott Pass and down into the Saline Valley. Most of Lippencott Pass Road is reasonably easy for a dual sport, but about a mile segment gets more technical with bigger boulders and some ruts. Near the end of this section going down, we encountered a rider on a BMW F800GS from Canada trying to go up over the pass. He had just fallen in a particularly rocky section and just gotten his bike back upright when we arrived. With his panniers loaded up plus some extra baggage on the tail, he needed to take some the load off in order to lift the bike back up by himself. When the rider asked how far it was to the closest gas, we knew he was in trouble. I noted that he was not wearing riding boots and also had just street oriented tires (90%/10% ?), which looked to be hindering his ability to get a grip up this steep rocky grade. After asking how much fuel he had and realizing that he wasn't keeping track, nor that aware of the route ahead (using his iPhone as the GPS which wasn't working out there), we advised that he turn around back to Saline Valley Road, and just take that south to the pavement for gas at Panamint Valley.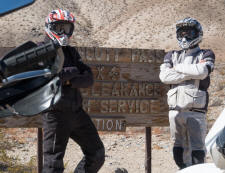 I debated with Randy if we could spare him some gas, but we felt it would be jeopardizing our own plans, while enabling him to potentially get into deeper trouble while not even knowing how much gas would be enough. I figured it was probably another 80-90 miles to Furnace Creek via the Racetrack Road and Ubehebe Crater.
Concerning the rideability of Lippencott Road compared to when last through here two years ago, it appears to have degraded a bit more. Perhaps the NPS is no longer maintaining it as a way to discourage traffic into these back areas? Taking a bigger adventure bike is still doable, but you should have some solid experience and prepared to take a fall and the consequences that go with that. It is still easier than Mengel Pass that we crossed the previous day. Personally also owning an F800GSA, I would be willing to risk it on Lippencott if necessary to reach my destination. But my first preference would still be to use my DRZ-400S, as trailered out to a base camp like we did. The lighter bike is just so much more nimble and agile for this more technical stuff. The ability for higher speed enabled by the bigger bikes is not really that useful in this terrain, with the main benefit being the extended range and carry capacity. Speaking of carry capacity, from my experience in bringing my bigger bike out into the Eureka Valley in the past, you are better off leaving the panniers back at camp when exploring this type of terrain.
After helping the F800GS Canadian rider back up, and waiting for him to get through a trickier section when he crashed again shortly after turning around, we then continued west toward the Saline Valley. As we rode on, I was shaking my head thinking about him, and his story for continuing as far as Tierra del Fuego at the tip of South America. He said he was going to pause for a month or so and learn some Spanish at a perma-culture farm that a friend works on somewhere in Mexico before heading further south. It is interesting that over the last year, this is the third individual motorcyclist I have encountered who has been in the process of a trans-continental ride, with some romantic vision in their eyes. I wonder if Charley and Ewan know how many motorcyclists that they have impacted in this way with their motorcycle cult film, The Long Way Around?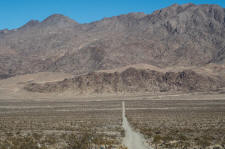 Reaching the junction of Lippencott Mine and Saline Valley Road, we then turned north, with the next stop being the junction for the turn-off to the hot springs in about 20-30 miles. With Randy in the lead, I noticed some of the contents from his tail bag flying out onto the road behind him. After unsuccessful in getting his attention I stopped and gathered up each item, repeating this about 3 more times as I found more and more stuff on the road. I also found one of those magnetic hide-a-key boxes with a Subaru key in it from some other hapless traveler, most likely shaken loose due to the roughness of this road. Finally catching up with him in about 15 miles, we had a good chuckle over the situation before better securing his load and continuing on.
With me now in the lead, and while barreling down the Saline Valley road further to the north, I apparently passed the junction to the hot springs without noticing. I believe a sign that used to exist has been removed, perhaps to discourage traffic to this exclusive oasis for those not in the know. I didn't realize the error of my ways for another 10 miles or so. After doubling back and finding the road, we hit the reserve level on our fuel tanks while still another 4-5 miles to the hot springs, triggering a stop to transfer the fuel from the Rotopax tanks. At this point I also noticed that one of the bolts from my Rotopax mounting bracket had worked its way out despite the use of blue Loctite when I installed it. Although I carried some extra bolts with me, they were metric for the Suzuki, and this particular bolt for the Rotopax was SAE. We ended up creating an improvised mount of the now empty tank by strapping down with some spare webbing.
While stopped for the refueling we also did some rough calculations of our remaing fuel and mileage back to Panamint Springs, figuring it would be another 85 miles to get there. The missed turn had eaten uncomfortably into our fuel budget. This put us right at the limit of the bikes range for getting back to camp. Deciding between riding on to the hot spring versus just turning around now and not taking a chance, we decided to push our luck and apply a more conservative riding style on the way back. The idea of a warm soak just seemed too enticing to give up on now.
The clothing-optional hot springs did not disappoint after a fairly lengthy ride to this point. It was good to clean up and relax in the warm pools of this verdant oasis. We had a good chat with a couple from Reno that were spending a couple of nights out there, talking about everything from dirt bike routes in the Eastern Sierra and western Nevada, to Trump and the legalization of marijuana. After about an hour we suited back up and headed out. We also decided on a strategy for getting back while minimizing our gas consumption:
- We would try to hyper-mile by riding in the tallest gear possible while minimizing the RPMs and minimal or no stopping.
- Tuck the body on the bike during the higher speed sections.
- Coast on downhills where practical and minimize down-shifting.
- Rendezvous at the junction with highway 190 and check on the reserve status. From there if past reserve and one of us ran out of gas, then the other would try to continue on to the gas station if possible without stopping, fill up the Rotopax, and return for the stranded rider.
With all these techniques, it turns out we were able to make it all the way back without even switching to reserve. Once we made it to the highway, we knew we had it made, given only 14 miles to go (DRZ-400s reserve range is about 20~25 miles). It was a good exercise to better understand our limits in this type of situation, and we were both surprised on how well it worked. Like the previous day's ride, we got back at dusk around 6 pm.

Later after the riding of the next day we realized that this ride had cracked the rear subframe of Randy's bike in two places. Most likely this happened on the Racetrack Road given how severe the washboard was. It appears that his Rotopax mounting bracket also got loose (similar to that found on my bike) along with one of the bolts of the rack it was mounted to that worked its way out. This apparently caused the weight of the tank along with his tail bag to hammer the rear rack against the subframe, eventually resulting in the failure of two welds on the frame. The bike was still rideable under low load conditions, but the rear acted a bit squirrely.