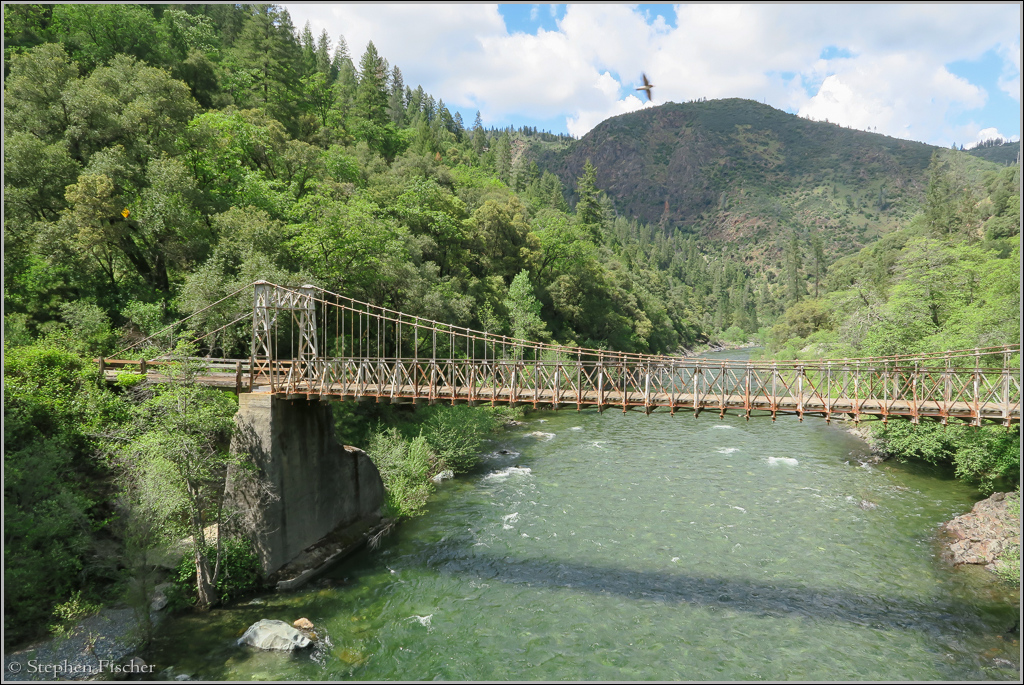 This is a classic dual sport ride for exploring the off-road area between Foresthill and Iowa Hill. It is quite popular with locals, and one that I have taken on multiple occasions. It is also suitable for both smaller dual sport bikes, as well as larger adventure bikes. The route documented here is about 60 miles in length with an average moving speed of about 30 mph, taking about 3.5 hours with break stops and a beer at the Iowa Hill tavern/country store.
The ride starts in Foresthill off Main Street at the junction with Gold Street, heading north on what becomes Yankee Jim Road. I typically refuel at a local coffee shop near the starting point, which is also a good place for a sandwich. There is also space to park a truck or trailer for shuttling your bikes at this spot.
From Yankee Jim Road you head down canyon toward Colfax. The road becomes dirt in a couple of miles, and stays that way until closer to Colfax. This dirt road is in fairly good condition, but can be muddy in places when wet. Along the way you will pass another popular dirt road: Shirttail Canyon Road, that is a useful all dirt cut-off directly to Iowa Hill. Continuing on Yankee Jim Road, you will cross the north fork of the American River via an older rivetted style bridge. You then climb out of the canyon and eventually hit Canyon Road that fronts Interstate 80. This becomes pavement again a couple of miles before Canyon Road. Making a right on Canyon Road, you follow this toward the north-northeast for about 1.5 miles to Iowa Hill Road, just short of the town of Colfax. From here you head east on Iowa Hill Road back down canyon, eventually crossing the American River again via another older bridge. There is also a small campground here popular with rafters and fishermen that can be a good base for motorcycle rides in this area.
The ride out of the canyon on Iowa Hill is quite steep, but paved, and for this reason can be a popular training location for road bicyclists, so one needs to be careful on some of the blind corners. Eventually you will hit a charming tavern and country store at Iowa Hill, that is a throwback to an older time. Last time I rode through there we stopped for a beer and listened to some local musicians playing to the lunch crowd. Warning to those more sophisticated metro riders: Your choices of beer will be limited to Budweiser, Coors, and Coors-lite.
Moving on Iowa Hill Road, we headed toward Sugar Pine Reservoir which is also a good place for a break, having pit toilets, picnic area, and campsites. It should also be noted that just east of Sugar Pine Reservoir is an excellent single track OHV park, ideal for smaller dual sports.
Shortly after Sugar Pine Reservoir, skirting the west side we made a right on Finning Mill Road, becoming dirt again, taking this all the way back to Foresthill Road. For some reason, this particular dirt road tends to attract a lot of gun owners looking for a place for target practice. For this reason, don't be surprised to hear gunfire along your ride here. I was first acquainted here with one such enthusiast with an AK-47, and surprised about how loud and powerful this gun is.
After getting back on the pavement at Foresthill Road east of town, we then head further east for about 1/2 mile on to Michigan Bluff Road to the right. The small residential enclave here is where the Western States Trail hits the pavement again from its path over the Sierra from Squaw Valley. You then take Gorman Ranch Road (dirt) heading west and south from the pavement. Gorman Ranch Road is typically in good condition for dirt, and eventually hits Mosquito Ridge Road to the south. From there, it becomes pavement again all the way back to Foresthill toward the west. Mosquito Ridge Road is quite twisty and a fun place to open up the throttle and test your street riding skills, for better or worse. So be careful out there.
The KML file of the route for those that want to download it to their GPS can be found here.
In summary, this is a solid and versatile dual sport or adventure motorcycle ride, suitable for most riders. It has a balanced mix between dirt and pavement, about 50-50. It is a good default for riding in this area, covering a lot of ground and scenery.