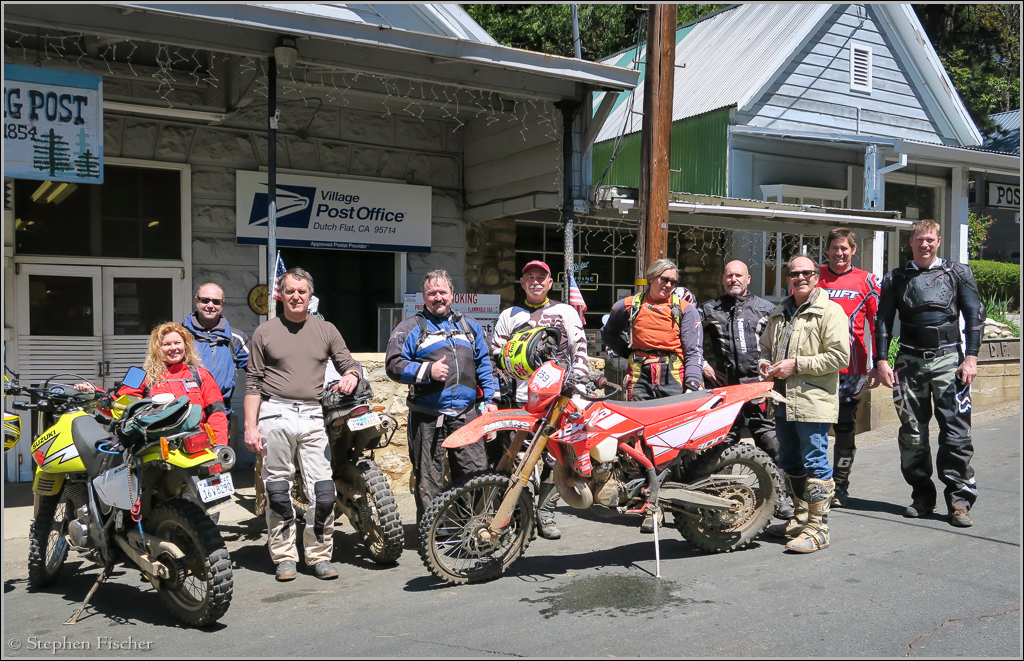 This ride was organized through the Auburn Dual Sport meet-up group. I have ridden with many of these folks on a number of occasions, and have always enjoyed the rides with them. There were about 12 riders on a range of bikes from 250's to 650's, although a bigger adventure bike could also follow this route. We left from the McDonalds at Colfax, heading north initially on Rollins Lake Road, and then up North Grade Road, followed by Sylvan Road and Magra Road, before reaching Gold Run. Still on pavement we then headed up to Dutch Flat via Sacramento Street. Dutch Flat is a small charming town with a small general store that can be a good place for a snack and a break.
The route turns to dirt just north of Dutch Flat after taking Diggins Hill, which soon routes around a small reservoir. From there the dirt route follows Lowell Hill Road all the way to Highway 20. Along the way there are alternative more challenging paths parallel to this route underneath the power lines. Taking some of these, they ended up adding more spice to the ride, being well suited for the dual sport bikes.
After reaching highway 20, we then head east for a couple of miles, and then turning off onto the dirt again at Zeibright Road in the Bear Valley just before the Bear River. We then peeled off onto Boardman Canal PG&E Road, following a different set of powerlines all the way back. Again, some more challenging cut-off roads can be explored on this route for this wishing for a bit more excitement. Along the way, the group stopped at the Bear River crossing close to the junction with Zeibright and Boardman Canal Roads. This is a good spot for break and a snack as the half-way point for the ride before moving on.
The return to Dutch Flat was reached by continuing on Boardman Canal PG&E Road under the power lines all the way to Drum Forebay Road, then Culberson Road, followed by a left on Main street, before riding into town. The return to Colfax was via the way in, all on pavement.
The KML file of the route for those that want to download it to their GPS can be found here.
The most interesting aspect of this ride starts from Dutch Flat and out to Highway 20, and back. The meet-up leader intended to take a dirt route from Colfax to Dutch Flat, but apparently the planned road was closed, potentially being too early in the year, prior to being opened by the forest service. It is a ride that can be taken on any size off-road bike, but it needs to be street legal due to some areas of pavement that can't be avoided.