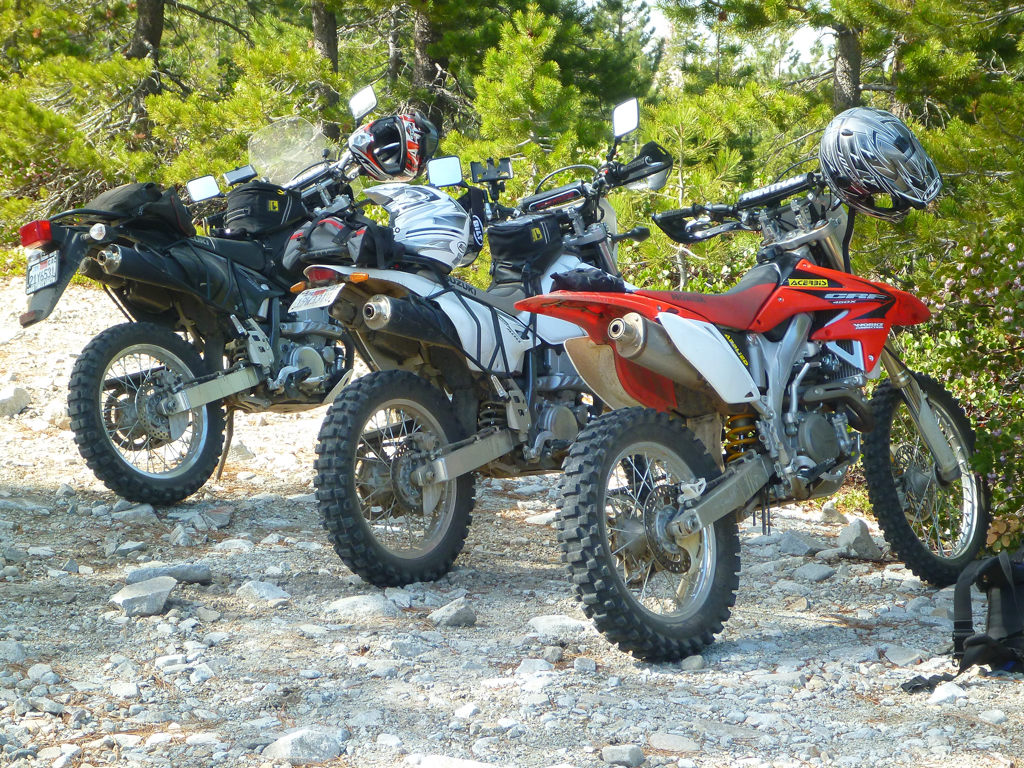 This ride was first taken in the middle of March of 2015 by myself and two friends Tucker and Randy. It was something we talked about a bit, and finally had the time to try it. The ride starts north of Nevada City, California with an intermediate destination of Downieville along the North Yuba River for refueling and lunch after passing through the towns of North Columbia and Alleghany via Tyler Foote Road. We then return toward the east reaching Jackson Meadow reservoir via Henness Pass Road, and then Bowman Lake, next heading southwest to the town of Washington, followed by a more western path to Malakoff Diggins, and then ultimately back to our starting point at the truck, for a total route distance of about 125 miles. About 95% of the ride is dirt, and about 25% is quite rough and rocky that is more suited for a dual sport with knobbies versus a larger adventure bike with trail tires. I have created a public map of the route on Google Maps that can be viewed in a window of this page below. The route starts at the lower left corner and goes in a clockwise manner.
With the lack of snow or rain, the area was surprisingly clear and dry for this time of year, given we were riding at altitudes up to 6800 feet (and as low as 1800 feet). Randy and myself rode Suzuki DRZ400S dual sports while Tucker was on a Honda CRF400. All of us are sufficiently experienced in covering fairly difficult terrain, with bikes sufficiently agile to handle this. Tucker led the way as he does a lot of riding in the Yuba River watershed, having a place further east in Truckee that he also uses as a base during the warmer season.
The KMZ file of the route for those that want to download it to their GPS can be found here.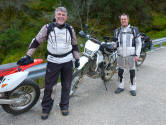 The day started that morning by trailering our three bikes and parking at an open clearing off the side of North Bloomfield road just north of the outer developed area of Nevada City, with the bikes readied and heading out to the north by about 10:30am. After a short bit of asphalt at the start, we crossed the south fork of the Yuba River where the road becomes dirt. Although I have ridden with Tucker before, Randy and myself quickly realized Tucker has a fairly fast pace on his CRF450 as he tore out on the dirt from the bridge. This helped set a brisk pace for the rest of the ride, and required a bit more mental focus to stay on top of the terrain in order to keep up.
From the bridge at the South Yuba, we continued up North Bloomfield for a short way until branching off to the left on Grizzly Hill Road. From there we road north until hitting Tyler Foote Road at the town of North Columbia. Some of these towns like North Columbia don't have any facilities to speak of, mostly consisting of a few prospector oriented folks that seem to prefer their isolation and more rural and rugged lifestyle that you find out here. Such folks tend to pride themselves in their independence and distrust of the government, and feel pretty strongly about it. Because of this, I would hazard to guess it is probably best not to poke around on any of the private roads with your dirt bike if you know what is good for you.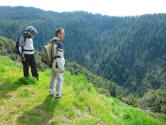 Is that banjo music?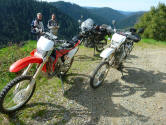 From North Columbia we then head northeast on Tyler Foote Road for a considerable distance, crossing the middle fork of the Yuba, and eventually reaching the town of Alleghany after about 20 miles. Along the way there are some scenic vistas of the Yuba River canyon below that we stopped at to enjoy and have a water break.
After Alleghany, I started refering to my GPS to find the best route to Downieville, as Tucker was not as familiar with the more exact path to get us there via dirt. This was working out OK, by required a bit of slow going in places until about four other local dual sport riders blasted by us in the same direction. They seemed like they were on a mission and I had a hunch they were heading to the same destination, so we followed them and their dust trail.
A couple of miles north of Alleghany we hit the first asphalt on Pilocene Ridge road. So far this road is sufficiently refined that a bigger adventure bike with trail tires could take this without much trouble. Making a right on Pilocene Ridge Road on the only other pavement for this ride, we blast out toward the east for about 3 miles until reaching a dirt road on the left called Galloway. Also, if you have a non-plated bike, this last 3 mile paved segment is something to keep in mind. There appears to be a parallel dirt road just north of Pilocene Ridge Road one could take for about half of that distance; Or you could just take your chances given there is very little traffic here and it is a relatively short segment.
Following Galloway Street to the north takes you into the town of Downieville in about 5 miles. The second half of this road becomes rather steep in its descent to the bottom of the rather deep North Yuba River canyon, along with a fair amount of mud in places. I would be hesitant to attempt this on a bigger bike with just trail tires, as it may be difficult to control your descent in some places. Once it is dry, the situation will probably be easier.
After reaching the town of Downieville, we fueled up and ate lunch at the local Two Rivers Cafe, and chatted with some of the other dual sport riders we saw blow by us earlier on their KTMs. At this point we had traveled about 40-45 miles, but since this is the only gas you will find along the route, it is best to fill up here unless you have a big tank. As a side note, Downieville is quite charming as there are quite a few authentic older homes that are probably over a century old, with many reminders of the gold rush era. We spent a short amount of time exploring the area on our bikes to get a better feel for it. Being along the confluence of the North Fork of the Yuba River and the Downie River, it looks like a great place for fishing and camping. It also happens to be a mountain biking mecca known for the famous "Downieville Downhill". In the future I will have to plan another trip to come back here and stay overnight at one of the local motels in town, perhaps as part of an even bigger ride.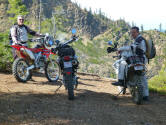 After lunch we headed back up Galloway Street the way we came in on, until reaching the asphalt again where we originally turned off when coming from Alleghany. This time we turned left, heading east on Henness Pass Road for a considerable distance, ultimately reaching Jackson Meadow Reservoir after about 20 more miles, despite Tucker's claim that it is "about 5 miles". The road gets a bit trickier along the way due to some bigger rock gardens and mud, but nothing too challenging for a dual sport with knobby tires. This particular segment is where we also reach our highest elevation of about 6800 feet, with some snow in places. Due to the big swings in the temperature from the elevation changes, we must have switched in the jacket liner or removed it about three or four times on this ride.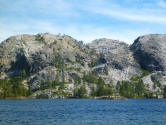 Reaching the dam at the Jackson Meadow Reservoir, we took a short break (after spotting the only open outhouse on the route between Downieville and Malakoff Diggins) before heading out again around the right side of the lake toward Bowman Lake. Before reaching Bowman, we decided to take a small detour and check out Faucherie Lake at the end of about a 3 mile spur road. This road was quite rough with larger and many more baby head sized rocks to navigate through. But it was worth it, as this particular lake is quite scenic. The rough road probably helps keep it more isolated from any more casual campers with trailers and the like. After returning back on to Meadow Lake Road, we continued southwest around the north (right) side of the rather large Bowman Lake. Like the spur road to Faucherie Lake, this trail is also quite rough, and you end up taking somewhat of a beating by the time the road gets better at the west end of the lake. I continue to be surprised how well the suspension on these dual sport bikes can handle this stuff without breaking something.
From Bowman Lake, we then continue west on Meadow Lake Road until hitting a fork with Gaston Road, taking a left on this toward the south to Washington in about 8 miles. This road was graded without much difficulty, other than a bit too much freshly laid gravel that tended to cause you to slide out in the corners if you are going too fast.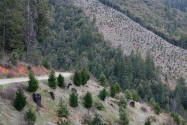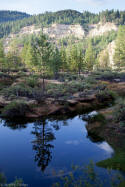 A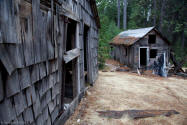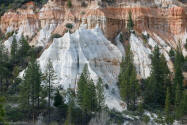 fter reaching Washington, another mining town along the South Fork of the Yuba River, we stretched our legs again, and then set out for the final stage northwest up Relief Hill Road to Malakoff Diggins in another 12 miles. This road is similar in conditions to that of Gaston Road, graded with some loose gravel and dirt, along with a few ruts, but nothing a larger adventure bike could not also handle. After reaching Malakoff Diggins State Park, we then headed west after entering the reconstructed town of North Bloomfield that is part of the state park. If you have time, you can explore the outside of these buildings and get inside a few them on weekends when the state park staffing is higher (but beware if you don't have a plated bike here). They also have a campground that is open typically between Memorial and Labor Day. Continuing on, down the road to the west in a couple of miles there are some scenic viewpoints of the canyons created by the hydraulic mining that devasted this area and the river basins downstream in the 1860's through the 1880's. Eventually the mining was stopped by the courts as forced by the municpalities and farmers in the central valley tired of being flooded every spring run-off, as caused by the excessive amount of sediment that displaced the river out of its banks. You can see a sampling of this devastation at the end of a short hiking trail from some ad-hoc parking areas. There are some distinct and different colors to the sedimentary rock layers that more looks like something you would expect to find at Bryce Canyon in Utah.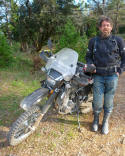 Motoring along, we eventually recrossed the south fork of the Yuba River, retracing our outbound route at this point, and ultimately getting back to the truck by about 5pm. All of us were thoroughly beat and dusty after a solid day of what we all agree was an epic ride. The scenery was beautiful, the air felt brisk and clean, the riding was thoroughly enjoyable, and we covered quite a bit of the northern portion of California's historic Gold Country.

- Stephen Fischer