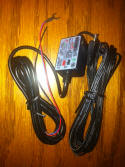 - Apparently the 'capacitor' version I ordered did not come with a 12V to micro USB power module, and thus I used one I ordered off of Amazon. But after ordering a second 'battery' based unit for my DRZ400S dual sport, it came with the power adapter with pigtails (pictured on the right). Other readers have also reported recieving this power adapter from Innovv. This will allow connection to the 12V supply without having to buy a separate 12V to USB power adapter.

- I tried playing with the shock sensor settings to see how often it triggers on the 'low' sensitivity setting. But it still ends up creating locked files about 30% of the time on regular surface streets or the freeway. Thus I have concluded I just have to keep that feature off.

- There was a period where I was out of town for just over a week without riding the bike. When reviewing the captured camera footage after the point I started using the bike again, the date and time settings on the camera had reset. I believe it is because I have the 'capacitor' version, which relies on the charge in the capacitor in order to power the time-of-day clock. Apparently one week or more is too long to keep this running. To reestablish the correct date and time I had to reconnect the recorder to my notebook computer and rerun the Innovv configuration application. I suspect the battery version won't have this issue (or not after a week anyway).

Given there may be periods where you are not riding enough (i.e. during the winter months) it may not always be practical to keep the time-of-day is correct if you have the capacitor version. To address this I would recommend that in the unfortunate case of some incident recorded with your camera, you may want to do something to manually record the date and time like holding the clock of your smart phone or watch in front of the camera before connecting the recorder back to your computer.