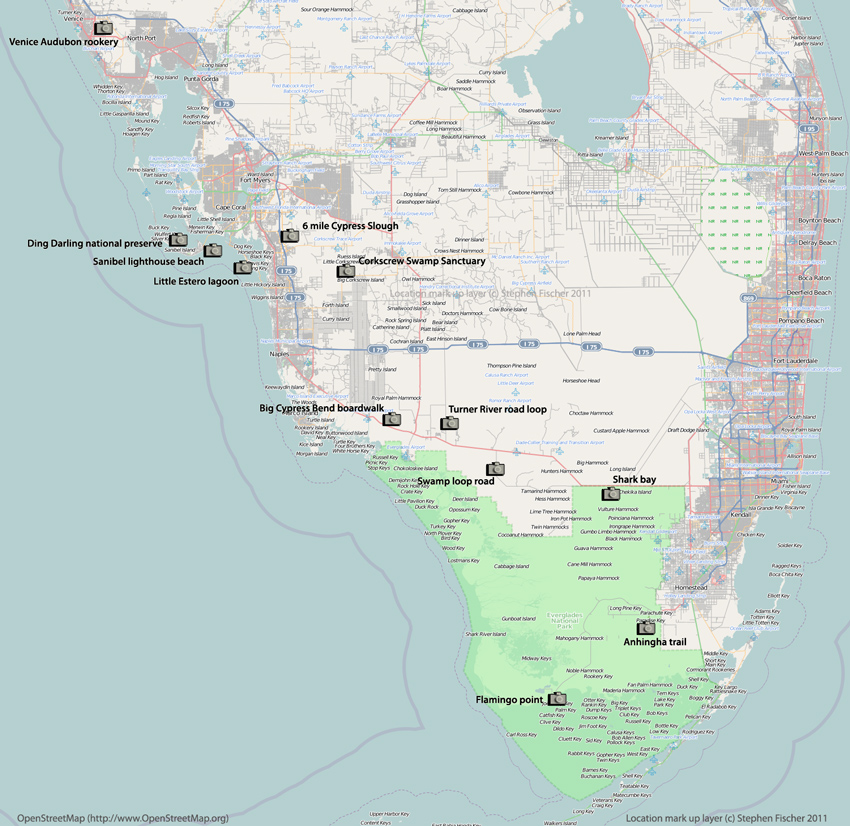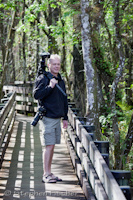 Myself and Don (another avid bird photographer pictured on the right) spent a week at the end of January 2011 traveling through southwest Florida for the purpose of getting high quality bird photographs. We based the trip out of Fort Myers on the west coast of the state and slowly made our way to Everglades National Park at the southeast corner of the state. Both of us were sufficiently loaded for bird photography equipment-wise. I am a Canon shooter, while Don uses Nikon. Both of us brought two bodies for this trip, one cropped, the other full frame, with a 500mm f/4 lens plus either a 1.4x or 1.7x teleconverter. We used monopods most of the time for increased mobility except for early morning shots when a tripod was necessary or just more convenient. I sometimes slung a 100-400mm f/4.5-5.6 lens with the other body around my neck while Don used a 70-200mm with the 1.7x TC for closer in shooting. Carrying this full load on some of the hikes was arduous, but necessary in some of the more target rich environments. Having two camera setups for trips like this was useful, providing increased flexibility, and better preparedness in case you needed to respond quickly.
The following article will describe a list of 12 locations that we hit and our overall experiences at each spot, along with some images shown in a small gallery at the bottom of each picture I captured at each of these locations. We encountered other birders and photographers along the way, picking up more information as we went. For some of these locations, we hit them multiple times based on previous results and/or in search of the best lighting or in hopes of more or different birds.
You can also go to a description for each location by clicking on that spot in the map above.