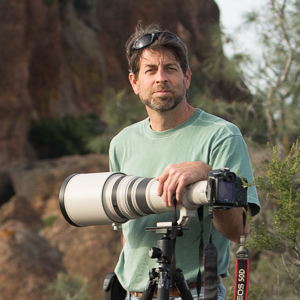 Stephen Fischer is an avid photographer who enjoys the adventure of getting out and capturing artistic landscape and wildlife images while exploring new places. Part of the enjoyment is being able to successfully capture and portray beauty that comes so natural to the eye, but can be difficult to reproduce in a photographic image. Stephen's photographic skills were grounded with black and white film, performing negative and enlargement processing in his own laboratory setup over 35 years ago. He made the switch to a digital method with a renewed zest for the field back in 2006 based on Canon equipment, as digital technology started to eclipse that of film.
Stephen is based out of Sacramento California and as such, much of his work represents a specialty in some of the natural landscapes of the area such as the American River Parkway, the oak woodlands in the surrounding foothills, and some of the local wildlife preserves such as the Yolo, Sacramento National Wildlife Refuge, and Cosumnes River Nature Preserve. On a broader basis, his photographic coverage spans most of the northern and central portion of California from the Pacific coast to the Sierras, White Mountains, and southwest desert regions. Out-of-state coverage includes Oregon, Nevada, Arizona, Utah, and New Mexico. Multiple week trips including hiking into the back country and high sierras, technical canyoneering through the slots of Utah, kayaking on the Pacific, and other adventure forms of travel are typical and part of the challenge in getting the better shots.
Stephen has exhibited his work in multiple forums including a juried show on the scenic American River Parkway at the Viewpoint Photographic Gallery. In addition his images have been used in a variety of non-profit venues including multiple environmentally minded organizations, various brochures, websites, the periodical High Country News, plus a supporting image for an international independent film.
As an accomplished computer engineer, he applies a more scientific and methodical approach for capturing some of his more unique images. Use of astronomical data, topographical and satellite maps, and a compass are sometimes utilized to plan some of these shooting endeavors. Time is also spent studying the wildlife and natural history of the area in order to more fully appreciate what is being photographed. His philosophy in post-processing is to preserve the honesty and realism of the image as it originally was viewed while correcting for the technological deficiences in the capture process. In this day and age with the advanced state of sophistication in photo processing tools, he has stayed abreast of these most advanced methods to achieve the best quality results. But at the same time Stephen is concerned about the effect that such tools will have on the truthfulness of photography and the potential for it to undercut its reputation as a documentary form of media.