Gooseberry point has fairly dramatic views, being on the edge of a narrower feeder canyon into the main canyon of the Colorado river. You will also notice the contrast of the white sandstone rim with the deeper red kayenta sandstone beneath that is so noticeable up at the top of the Grandview Point lookout. After breaking camp after breakfast we headed further down the trail, hitting the White Crack area under fairly pathetic lighting conditions with no clouds (and thus I did not bother posting any images of this location). Under a sunrise or sunset or with more interesting clouds, I would imagine it would be more dramatic for photography. While here will also noticed quite a few mountain bikers that apparently use this as a base for rides out along the White Rim trail via some organized tour group(s).
From there we headed toward the northwest, climbing the Hogback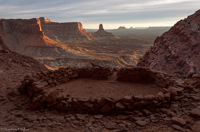 ridgeline, which was somewhat challenging for the 4wd vehicles due to its steepness. The evening destination was the Candlestick Tower, passing along the way some other fairly dramatic canyon edges, including the Turks Head gooseneck. Candlestick Tower is also a recognizable landmark as visible from the top of the Canyonlands mesa while looking toward the west. It is also noticeable in the background if out photographing the False Kiva as shown here by the pinnacle in the distant center.
All content and images are property of Stephen Fischer Photography, copyright 2012. Last updated: 8/22/2013