Winter in Yellowstone can be one of the most remarkable times to visit this national park. Lacking the throngs of tourist common in the warmer seasons, it is one of the quietest times to see this park, yet arguably the most scenic and prolific for wildlife.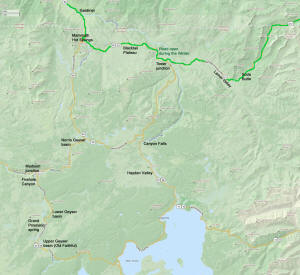 During the last week of February of 2016 I visited this park for the purpose of both wildlife and landscape photography under winter conditions. I picked the trailing edge of the season in order to lessen the severity of the cold that this area is notorious for in its extremes. In the winter months only the northern road from Mammoth through Tower and the Lamar Valley up to Cooke City is open (see the map to the right). This route has a reputation for plentiful wildlife sightings, including wolves. The main roads into central Yellowstone including the various geyser basins and canyon are closed to ordinary vehicle traffic, with it only accessible by snowmobile on a regulated basis and snow coach via travel arrangements booked ahead of time through the park service. While this area tends to not have as much wildlife opportunities due to the higher amount of snowmobile traffic, the landscape opportunities under the winter settings can be more magical.
Taking my own car from Sacramento, it took two days to reach the northwest entrance of the park at Mammoth Hot Springs through the town of Gardner, Montana. For the first three nights I stayed at the Mammoth Lodge, using it as a base for twice daily drives up through the Lamar Valley on this 45 mile route in each direction, looking for wildlife photography opportunities along the way. The first drive out each morning would be at about 30-45 minutes before sunrise, when wildlife tends to be more active. After returning about 3 hours later, cooling my heals back at Mammoth, eat lunch, proof my previous shots, I would then head back out at about 3 pm for a second pass closer to sunset, and then returning back to the lodge again after nightfall. This strategy takes a lot of persistence and patience, but ultimately paid off in terms of capturing numerous wildlife situations. As a result of this three days of effort, I was rewarded with quality shots of red fox, coyotes, bison, elk, bald eagles, big horn sheep, moose, and wolves.
<page 2 of article continued on the next page>