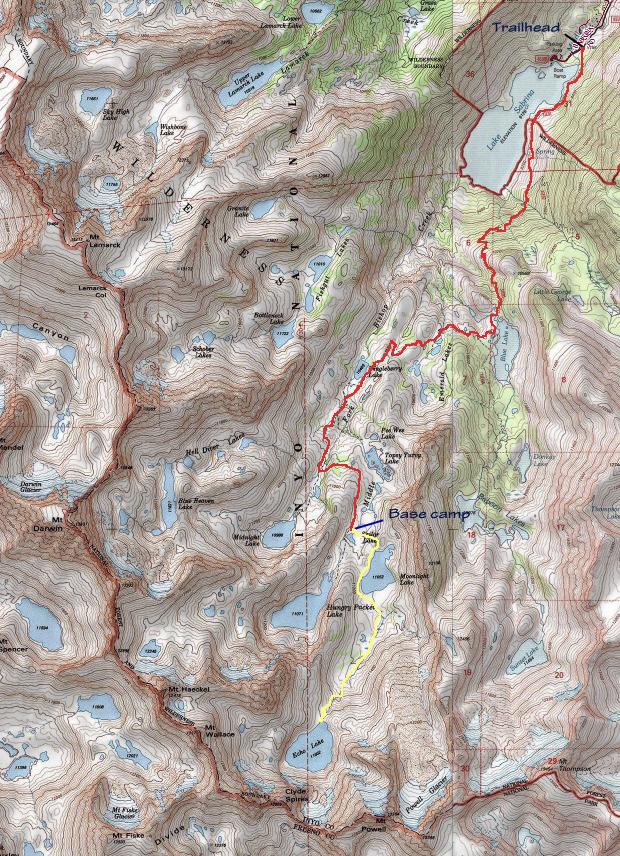 Steve and two friends (John and Randy) took a 3 day hike into the high sierras of the Sabrina Lakes basin. This is a good location for fairly quick access (1 day) into the more pristine country of the higher altitude Sierra Nevada wilderness. There are many lakes and trails one can explore here, including bushwacking over the Sierra divide into the Evolution Basin. Beside the lakes, some creeks and falls, there are some majestic peaks at the higher altitudes that can make for some good photographic opportunities. Given we were making this hike in August, we also expected the typical afternoon thunderstorms that frequent the high sierras during the later summer months.
After picking up a wilderness permit at the local ranger station in downtown Bishop we headed up to the trailhead that starts at Sabrina Lake, about 20 miles west of Bishop. There are many lakes one would be tempted to stop at for this hike, but we decided to push on close to the end of the trail and setup base camp at Sailor Lake. This is about 7 miles from the trailhead. Leaving at about 9:30 AM, we reached the camp at about 3:30 PM including a stop for lunch. This particular lake is in a fairly wide open area that lends itself to some nice views and provides some good reflecting opportunities at this lake and nearby Moonlight lake when the winds are calmer.
After setting up camp, Steve spent a little time exploring the surrounding area for photographic possibilites. Then after cooking and wolfing down dinner, Steve and John fanned out to photograph the area under the sunset light. Given the base camp sits down in a basin with taller mountains all around, he planned an earlier start, as the light starts going out down in the basin about 30-45 minutes before the astronomical sunset.
Fortunately it felt this time the mosquitos did not seem that bad, but a little Deet did not hurt to keep them at bay (you just need to be careful about touching your camera gear without first wiping your hands of Deet, as it is very corrosive on some plastics). To help avoid the mosquitos, we set up camp away from any marshy meadows and purposely picked a spot more open to the weather and wind. Checking out the lakes, we did notice a presence of some relatively small trout with a maximum size of about 10" in length. We did get reports from other hikers that fishing is significantly down this year due to a temporary stoppage on the stocking of some of these lakes by the Fish and Game department.
That night Steve also photographed some star trails and the Milkyway above Mt. Powell to the south. The next day the three of us did a day hike up to Echo Lake, scrambling over the tallus slopes to the south and then bending to the west toward Mt. Wallace, following the west bank of Moonlight Lake at the start, and then crossing some intermediate meadow, before climbing up a more significant rocky slope for another 500 feet in elevation. We were able to get up to Echo lake up at 11,600 feet that sits in a cirque with a glacier that feeds into it on the west side. This also would be the base leg for hikers wishing to push on climb over the divide at 13,000 feet into the Evolution basin of Kings Canyon National Park. After a break for lunch up there, afternoon thunderstorms started rolling in. So we headed back down to our base camp for dinner and more photography. Based on earlier explorations, Steve was able to find some interesting water falls for that evenings photography and also include some stormy skies for more drama. Morning photography was also good for capturing the calmness of the water to get some nice reflections. All-in-all, it was a good trip with a lot of great photographic opportunities.
You can see a collection of High Sierra fine art images from my gallery here.